Would you pay with your palm?
China Report is MIT Technology Review's newsletter about technology developments in China. Sign up to receive it in your inbox every Tuesday.
Hey! Welcome back to China Report.
If you happen to be in Cambridge, MA, this week, come meet me at EmTech, MIT Technology Review's big annual event. I'm going to host a few panels and fireside chats focusing on global technology challenges, including US-China tensions, crypto regulation, and social media misinformation. You can also just pop by and say hi.
As I prep for the event, I also want to share a preview of a fascinating story I'm working on.
On October 14, a Chinese tech publication first reported that Tencent had quietly launched a feature in WeChat that allows users to pay by verifying their palm prints. It quickly made headlines in China, where 800 million individuals and 10 million vendors already use Tencent's WeChat Pay, and citizens have generally grown skeptical about whether trading their biometric data for convenience is actually beneficial (and safe). Many Chinese publications followed up with their own reporting. 
However, there was only peripheral evidence to show Tencent has in fact been developing payment technology based on palm-print recognition. Apart from a few low-resolution photos, reporters could only really corroborate the story by finding that Tencent has been registering trademarks like "微信刷掌 (WeChat palm scan)" or "WePalm," and applying for relevant patents in the past year. One patent for "scanning and paying equipment," approved back in December, includes cameras that can recognize "at least two types of identifying information including QR codes, palm-print information, and palm vein information." 
So, it sure looks as if Tencent is setting the stage for introducing a big new technology. But when similar reports about Tencent's palm-print recognition experiment got out in 2021, the company responded that it was only an internal research project and there was no plan to apply it in real life. And, after all, big tech companies preemptively register trademarks and patents all the time. (Apple has also been granted palm-print recognition patents before, but it does not have related consumer-facing products.) So how do we know Tencent is serious this time?
Open-source intelligence!
In other words, I turned to Chinese social media platforms—particularly video services like Douyin and WeChat Channels—because I suspected that if Tencent had really been testing the technology in stores, maybe some users would have seen and recorded it.
In various posts, I found a handful of videos proving that palm-print payment devices for Tencent's WeChat Pay system have been tested in cafes, bakeries, and supermarkets since at least July. The videos come from users in Shenzhen, the city where the company is headquartered, and Guangzhou, another megacity 65 miles away. In most cases, WeChat seems to offer a small discount, often below 10 RMB ($1.37), for customers to try out the new feature, submit their palm-print data, and use it to pay at the cashier.
In one late September video that I found particularly insightful, a person who appears to be a WeChat employee can be heard instructing people to put their hands in front of a recognition device and record their palm prints. "New feature of WeChat Pay. Everyone is welcome to try our service and support us," the voice says. In return, the users who scan their palms can get a soda for the price of one cent.
The user who later uploaded the video asks when this feature was released, and the voice replies that it started half a year ago but only recently came to Guangzhou.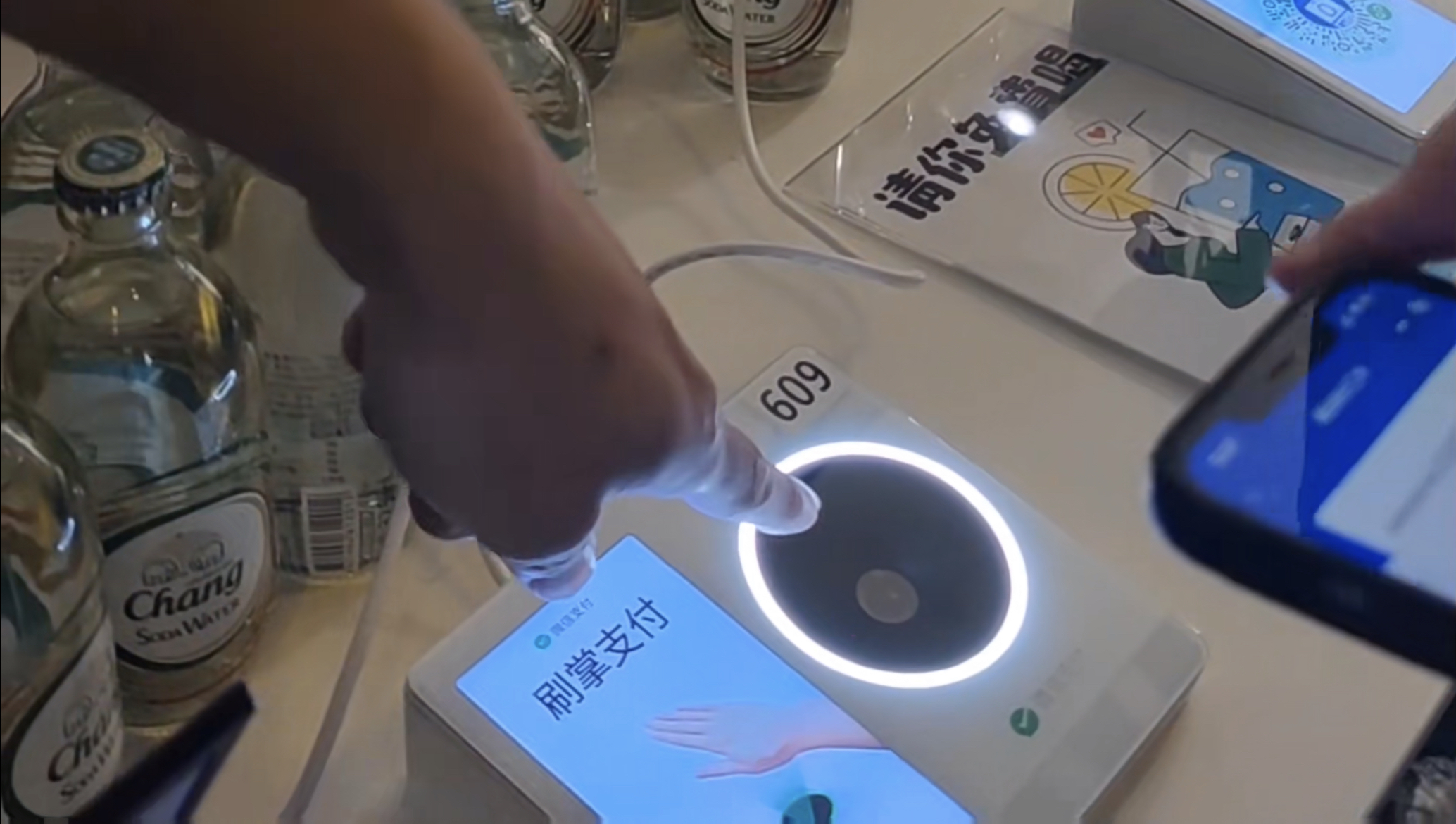 The payment devices in these videos are iPad-size white boxes with one screen showing instructions and a camera capturing the palm data. It's unclear whether they are meant only for testing the functionality of palm-print recognition technology or for collecting more data to help fine-tune it (or both). None of the relevant videos indicate that customers are being told how their data will be used. I asked Tencent for a comment but I haven't heard back.
No matter their exact use, the devices are likely still in the trial phase, as they are often shown alongside a note saying "Trial location for WeChat palm-print scan payment" or "Internal testing. Please don't tell external people." In one photo posted online, a written warning states that photography of the device is prohibited.
(Lol, this clearly didn't stop people from taking photos. And videos. And uploading them to the internet.)
This reporting experience reaffirms an idea I've had for a long time: It's hard to know what's happening in China from the outside, both because of the powerful censorship machine and because of the border policies that make visiting China difficult. Yet Chinese video platforms like Douyin and Kuaishou—which are replacing traditional sites like Weibo to become the place where people express themselves and document their lives—can provide more insight than ever. Since the content of videos is less search-friendly than texts, they are harder to sort through, but they also often pack more information into just a few seconds.
Obviously, there's much more to the story of palm-print recognition than this preview. Why is the technology having a moment now, after facial recognition has thrived for years? How has the pandemic, which made face masks widespread, changed its course of development? How could the increasing awareness of data privacy help or hurt the prospect of palm-print recognition? There are many more interesting discussions to be had about the technological and ethical aspects of the technology, and I'll address them in the full story that we'll publish soon. I'll be sure to link in the next newsletter.
Until then! I'll see you again next week (or maybe in person this week!).
Have you ever found something surprising on Douyin or similar platforms? I'd love to hear your story. Write to me at zeyi@technologyreview.com.
Catch up with China
1. China's "internal reference" system, which allows state media journalists to write classified, sensitive reports to the leadership without being censored, is increasingly muting critical information as Xi Jinping consolidates his power. (Associated Press) 
2. Shein, the Chinese fast-fashion shopping site, is on track to generate $24 billion in revenue this year, meaning it could soon surpass its rivals H&M and Zara, which made $18.1 billion and $27.6 billion, respectively, in 2021. (Wall Street Journal $)
Temu, another Chinese e-commerce app, is hoping to replicate Shein's success. But it won't be easy. (MIT Technology Review)
3. The largest Foxconn factory in China, with over 200,000 workers, is under covid lockdown, and some workers are fleeing to neighboring cities on foot. (Reuters $)
Meanwhile, covid protocols abruptly shut down the Disney park in Shanghai on Monday, trapping some visitors inside until they can get a negative PCR result. (Gizmodo)
4. A Wall Street Journal report revealed the inside story of a prisoner swap involving a Huawei executive and two Canadian citizens, plus the three-year hostage diplomacy between the United States, China, and Canada that made it happen. (Wall Street Journal $)
5. To fast-track their career growth, Latin American tech workers are jumping between Chinese tech companies that are eager to pay a hefty amount for localized experience. (Rest of World)
6. After banners protesting zero-covid policies and authoritarianism appeared in Beijing, their messages are being repeated by young Chinese people around the world—online and on university campuses. (New York Times $)
But discussions of the protest have been heavily censored on Chinese social media, particularly WeChat, where people could be permanently banned merely for sharing a photo of it. (MIT Technology Review)
7. Newlyweds in China are receiving phone calls from the local governments, encouraging them to have babies. (Reuters $)
Lost in translation
As gas prices keep pushing higher in China, a slew of new businesses that sell gas station coupons have been embraced by car owners, the National Business Daily reports. With these apps, owners can pre-purchase gas at a discount and use their quota at designated gas stations in the coming weeks. The business model is so popular that there are already about 30 competitors in the field, and some have raised tens of millions of dollars from investors. 
But how do they make money? The apps pay the gas stations at least a month after users make their purchases. And in that time, they lend out the pool of money in high-interest loans. So they are actually financial platforms in the guise of coupon apps, which makes them susceptible to financial market volatility. 
One more thing
China's most popular rapper lately is Zhang Tiegang, a down-to-earth woman from the rural northeast. In videos of her performing popular English rap songs, Zhang hit all the right flow and pronunciation with a poker face, old-fashioned clothes, and a backdrop of Chinese countryside life. The clear contrast between Zhang and the perception of a typical rapper made her viral on Douyin. She's "a tractor on the outside, a Ferrari on the inside," says one comment under her video.