The Download: what's next for the moon, and facial recognition's stalemate
This is today's edition of The Download, our weekday newsletter that provides a daily dose of what's going on in the world of technology.
What's next for the moon
It's been more than 50 years since humans last walked on the moon. But starting this year, an array of missions from private companies and national space agencies plan to take us back, sending everything from small robotic probes to full-fledged human landers.
The ultimate goal? Getting humans living and working on the moon, and then using it as a way station for possible later missions into deep space.
From private missions to hunt for water ice to much-needed updates to international lunar laws, here's what's next for the moon. Read the full story.
—Jonathan O'Callaghan
Jonathan's piece is part of our What's Next series, which takes a look across industries, trends, and technologies to give you a first look at the future. You can check out the rest of the series here.
How face recognition rules in the US got stuck in political gridlock
The US state of Massachusetts has become a hotbed of debate over police use of face recognition. Lawmakers there are considering a bill that would represent a breakthrough on the issue and could set a new tone of compromise for the rest of the country.
Tate Ryan-Mosley, our senior tech policy reporter, reported last week on how the governance of facial recognition is being held up in a unique type of political stasis. That's because the battle between 'abolish face recognition' and 'don't regulate it at all' has led to an absence of action. Compromises are the only way forward. Read the full story.
Tate's story is from The Technocrat, her weekly newsletter digging into the divisions of power in Silicon Valley. Sign up to receive it in your inbox every Friday.
The must-reads
I've combed the internet to find you today's most fun/important/scary/fascinating stories about technology.
1 Twitter's rebranding as X has begun
The blue bird logo is among the first things on the chopping block. (WP $)
+ But, knowing Elon Musk, don't be surprised if the logo changes again soon. (FT $)
+ Twitter's name isn't the problem—it's everything else. (Slate $)
2 Sam Altman's Worldcoin is rolling out across the world
But the path ahead looks far from smooth. (Bloomberg $)
+ How Worldcoin recruited its first half a million test users. (MIT Technology Review)
3 Ukraine's live combat data is in hot demand
For military businesses vying to shape the future of warfare, it's invaluable. (Wired $)
+ Ukraine's fighters are adapting to unfamiliar territory. (Economist $)
+ Mass-market military drones have changed the way wars are fought. (MIT Technology Review)
4 Sydney has virtually eliminated HIV transmission
The former AIDS hotspot proves that curbing the disease is possible. (FT $)
+ Is an embryo model really an embryo? It depends who you ask. (Wired $)
5 An AI health startup is still extremely reliant on humans
DeepScribe says its AI is powerful, but teams of humans are the ones carrying out vital checks and catching errors. (WSJ $)
+ Don't bother asking chatbots for romantic advice. (Wired $)
+ Artificial intelligence is infiltrating health care. We shouldn't let it make all the decisions. (MIT Technology Review)
6 Robots make exceptional rescuers
They're particularly adept at working as teams in hazardous environments. (Knowable Magazine)+ Why we shouldn't worry about robots falling over. (IEEE Spectrum)
7 What we learnt from the Great PowerPoint Panic of 2003
We were told the software was making us stupid, but 20 years on, other threats seem far more important. (The Atlantic $)
8 Alcohol vending machines are taking over from bartenders in the UK
Good luck asking for anything more complicated than beer, though. (The Guardian)
9 India's rickshaw apps are on the rise
It solves an important problem—tracking one down in the first place.(Economist $)
10 Lab-grown chicken tastes just like… chicken

Alternative meat is much better than it used to be—but can it make an environmental difference? (Vox)
+ Here's what we know about lab-grown meat and climate change. (MIT Technology Review)
Quote of the day
"It's a fitting end to a phenomenal unwinding of an iconic brand and business."
—Allen Adamson, co-founder of marketing consultancy Metaforce, is not a fan of Twitter's plans to ditch its instantly-recognizable blue bird logo and rebrand to X, he tells the Guardian.
The big story
Capitalism is in crisis. To save it, we need to rethink economic growth.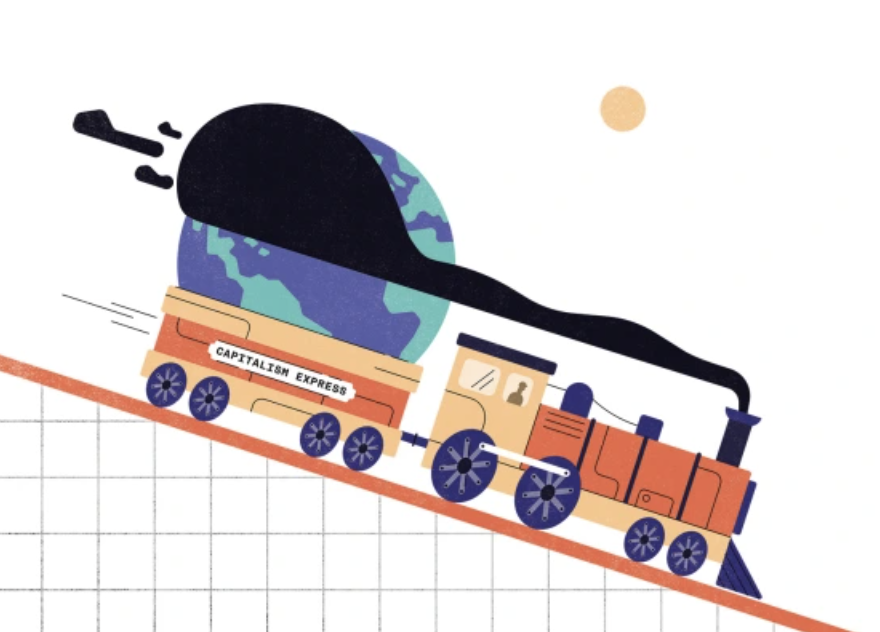 Even before the covid-19 pandemic and the resulting collapse of much of the world's economy, it was clear that capitalism was in crisis. Unfettered free markets had pushed inequality of income and wealth to extremely high levels in the United States, and slow productivity growth in many rich countries had stunted a generation's financial opportunities.
It's no wonder many have begun questioning the devotion to free markets and faith in the power of economic growth to solve our problems. But while antipathy to growth is nothing new, its reemergence as a movement has taken on a harder political edge that questions whether we need to grow at all. Read the full story.
—David Rotman
We can still have nice things
A place for comfort, fun and distraction in these weird times. (Got any ideas? Drop me a line or tweet 'em at me.)
+ Phew, the Barbenheimer double-bill sounds intense, to say the least.
+ This stunning otamatone cover was exactly what I needed to hear this morning.
+ Denim! Leather! Tiny shorts! George Michael's commitment to fashion was a truly beautiful sight to witness.
+ Greek loaded fries? Yes please.
+ Take a few minutes out of your day to remind yourself just how great Tony Bennett really was.