The Download: Twitter may only last weeks, and Meta's unforced AI error
This is today's edition of The Download, our weekday newsletter that provides a daily dose of what's going on in the world of technology.
Former Twitter employees fear the platform might only last weeks
Recently-departed Twitter staff have told MIT Technology Review they worry that the platform has weeks to live based on current staffing levels, mass resignations overnight, and the morale of the few who remain.
The company's former employees estimate that 75% of its remaining workers plan to quit after Elon Musk gave them an ultimatum of adopting "extremely hardcore" working practices or to accept three months severance, a widescale revolt which looks like it will leave Twitter sorely short of key staff in the days to come.
For those who escaped the madness earlier, either through layoffs or being fired for insubordination, it's a troubling development. They're concerned that there's just not enough technical expertise to keep the site running, and that unless drastic changes are made, and soon, Musk's actions will signal the end of Twitter. Read the full story.
—Chris Stokel-Walker
Why Meta's latest large language model only survived three days online
On 15 November Meta unveiled a new large language model called Galactica, intended to assist scientists. But instead of landing with the big bang Meta hoped for, Galactica has died with a whimper after three days of intense criticism. Yesterday it took down the public demo that it had encouraged everyone to try out.
Meta's mis-step—and hubris—shows once again that big tech has a blind spot about the severe limitations of large language models.There is a large body of research that highlights the flaws of this technology, including its tendency to reproduce prejudice and assert falsehoods as facts.
However, Meta and other companies working on large language models, including Google, have failed to take it seriously. Read the full story.
—Will Douglas Heaven
Who's responsible for climate change? Three charts explain
Leaders at the annual UN climate conference are still in the thick of negotiations, working to find a path forward to cut emissions, as well as to address climate impacts that are already occurring.
Central to these negotiations is a question: who is responsible for climate change? The issue is complicated, but our charts might help to illuminate some of the answers.
—Casey Crownhart
I found out my biological age—and was annoyed by the result

You're only as old as you feel, or so they say. But now, you can put a precise number on your physical age, thanks to biological clocks. These tools analyze proteins in your blood, chemical markers on your DNA, or even the makeup of your gut bacteria to essentially predict how close you are to death.
It's a tantalizing idea. So when a company offered Jessica Hamzelou, our senior biotech reporter, the chance to find out her own biological age, she took it. But, as she found out, a vegetarian diet and regular yoga practice haven't turned the clock back for her as much as she hoped. Read the full story.
Jessica's story is from The Checkup, her weekly newsletter giving you the inside track on all things biotech and biomedicine. Sign up to receive it in your inbox every Thursday.
The must-reads
I've combed the internet to find you today's most fun/important/scary/fascinating stories about technology.
1 Elon Musk's demands for loyalty triggered an exodus of Twitter workers
Hundreds of employees chose to quit instead of signing up to his vision of "hardcore Twitter." (WP $)
+ The soccer World Cup will be a major stress test for what remains of the platform. (The Atlantic $)
+ Musk's management style is high risk, low reward. (WSJ $)
+ He's undermined Twitter's integrity and safety, senators say. (FT $)
+ Here's how you can find your feet on rival Mastodon. (Wired $)
+ Here's how a Twitter engineer says it will break in the coming weeks. (MIT Technology Review)
2 How covid bolstered antimicrobial resistance
It made an existing problem significantly worse. (Scientific American $)
+ The next pandemic is already here. Covid can teach us how to fight it. (MIT Technology Review)
3 Big Tech's glory days are numbered
Which leaves a whole lot of smart people with time on their hands. (Vox)
+ You could say the industry is having a midlife crisis. (The Atlantic $)
+ It's not just about growth at any cost anymore. (Slate $)
4 The hunt for a non-opioid treatment for pain
Marrying safety and efficacy is hard to do, but scientists aren't giving up. (Neo.Life)
+ Tens of millions of people in the US are living with chronic pain. (New Scientist $)
5 Taylor Swift's impassioned fans are going after Ticketmaster
The site botched sales for her new tour, and furious fans want to break its monopoly. (Slate $)
+ Ticketmaster sold nearly all the tickets in siloed presales. (Motherboard)
6 US broadband is seriously awful
It's expensive, slow, and contains loads of hidden charges. (The Verge)
+ Here's a list of the worst offenders when it comes to raising your bills. (WP $)
+ Temperature rises are likely to spark more global internet outages. (CNET)
7 Don't fall for the stories we tell about the internet
A healthy dose of critical thinking can cut through the spin. (The Atlantic $)
8 AI has a trust problem
Some experts believe that demonstrating how systems learn is the solution. (WSJ $)
+ AI-generated deepfakes could actually help protect privacy. (New Scientist $)
+ We need to design distrust into AI systems to make them safer. (MIT Technology Review)
9 China's TikTok sellers want to entice western shoppers


They're setting their sights firmly on the US market. (Rest of World)
+ China wants to control how its famous livestreamers act, speak, and even dress. (MIT Technology Review)
10 Silicon Valley loves an e-bike


It's the coolest way to flex your eco-credentials these days. (The Information $)
Quote of the day
"Never in my career have I seen such a complete failure of corporate controls and such a complete absence of trustworthy financial information."
—John Ray, the new boss of collapsed crypto exchange FTX, doesn't hold back in condemning the company's former leadership in a recent court filing, the Guardian reports.
The big story
Behind the painstaking process of creating Chinese computer fonts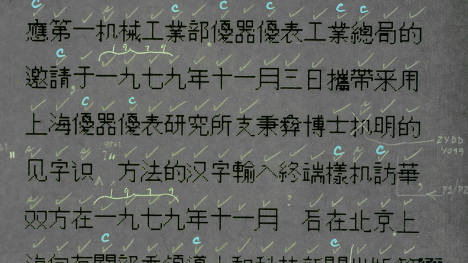 Bruce Rosenblum switched on his Apple II. A green grid appeared, 16 units wide and 16 units tall. This was "Gridmaster," a program Bruce had cooked up to build one of the world's first Chinese digital fonts. He was developing the font for an experimental machine which was among the first personal computers to handle the Chinese language.
He had a long list of tasks ahead of him. At the time, in the late 1970s and early 1980s, there were no personal computers being built in China. So to make a "Chinese" PC, Rosenblum's team was reprogramming an Apple II to operate in Chinese, which required programming both an operating system and a Chinese word processor.
While the machine was never commercially released, the painstaking work that went into its development was central to a complex global effort to solve a vexing engineering puzzle: how to equip a computer to handle Chinese, and in the process, eventually make the internet accessible to one-sixth of the global population. Read the full story.
—Tom Mullaney
We can still have nice things
A place for comfort, fun and distraction in these weird times. (Got any ideas? Drop me a line or tweet 'em at me.)
+ Beware the over-friendly octopus!
+ Cambridge Dictionary's word of the year is…something I'd never heard of before.
+ Henry Cavill, aka Superman and Geralt of Rivia, just wants to talk about Warhammer, guys.
+ Brussels Sprouts are tastier than ever—here's how you should be cooking them.
+ It may sound counterintuitive, but a second job can sometimes prove the perfect remedy to burnout.