The Download: the threat of microplastics, and mitigating AI bias
This is today's edition of The Download, our weekday newsletter that provides a daily dose of what's going on in the world of technology.
Microplastics are messing with the microbiomes of seabirds
The news: While we know that tiny pieces of plastic are everywhere, we don't fully understand what they're doing to us or other animals. Now, new research in seabirds hints that it might affect gut microbiomes—the trillions of microbes that make a home in the intestines and play an important role in animals' health.
The findings: Seabirds ingest plastic from the ocean, which can accumulate in their stomachs. The research shows it leaves the birds with more potentially harmful microbes in the gut, including some that are known to be resistant to antibiotics, and others with the potential to cause disease.
Why it matters: The report expands our view on what plastic pollution is doing to wildlife, and shines a light on the wide spectrum of adverse effects brought about by current plastic levels in the environment. The next step is to work out what this might mean for their health and the health of other animals, including humans. Read the full story.
—Jessica Hamzelou
What if we could just ask AI to be less biased?
Think of a teacher. Close your eyes. What does that person look like? If you ask Stable Diffusion or DALL-E 2, two of the most popular AI image generators, it's a white man with glasses.
But what if you could simply ask AI models to give you less biased answers? A new tool called Fair Diffusion makes it easier to tweak AI models to generate the types of images you want, such as swapping out the white men in the images for women or people of different ethnicities. A similar technique also seems to work for language models.
These methods of combating AI bias are welcome—and raise the obvious question of whether they should be baked into the models from the start. Read the full story.
—Melissa Heikkilä
Melissa's story is from The Algorithm, her weekly AI newsletter. Sign up to receive it in your inbox every Monday.
New report: Generative AI in Consumer Products
In the fast-paced world of consumer products, it's essential for designers and other creatives to stay ahead of the curve. MIT Technology Review has compiled a new report exploring how generative AI will change the way consumer products are designed and made, digging into how new generative tools could inspire early adopters, and help them to gain an edge on the competition.
It contains case studies plus practical guidance explaining how generative tools can help designers, and what AI's successful integration into the consumer goods sector could look like. Download and share the report with up to 10 colleagues today for $975.
The must-reads
I've combed the internet to find you today's most fun/important/scary/fascinating stories about technology.
1 The US has banned the use of commercial spyware
It comes after at least 50 government workers were targeted using spyware. (WP $)
+ What's next in cybersecurity. (MIT Technology Review)
2 AI is creating convincing historical records of fake events
This demonstrates how easily AI systems can be used for generating misinformation. (Motherboard)
+ Fake images of the Pope have also spread across the internet. (The Verge)
+ Chatbots aren't going to read our minds any time soon. (NYT $)
+ Why those cashing in from AI right now may lose out in the future. (The Atlantic $)
+ ChatGPT is everywhere. Here's where it came from. (MIT Technology Review)
3 China is restricting researchers from accessing a major database
Researchers outside China won't be able to access its biggest academic database from next month. (FT $)
4 US regulators are suing crypto's biggest exchange
They claim Binance has willfully evaded US law. (Reuters)+ The company reportedly encouraged its customers to use VPNs. (The Verge)
5 Twitter won't recommend unverified accounts anymore
Its default "For You" feed will only show tweets from users paying $8 a month. (Bloomberg $)
6 A grim market for deepfake porn is surging
Demand is so high, some of the creators are hiring staff to help them. (NBC News)+ A horrifying AI app swaps women into porn videos with a click. (MIT Technology Review)
7 When and why Facebook bends its own rules
Researchers worry that malleable moderation policies are open to exploitation. (Rest of World)
+ Facebook employees are on course for lower bonuses this year. (WSJ $)
8 What happens when our device backups fail


When we lose our photos and messages, our memories disappear with them. (The Guardian)
9 The internet just loves packing videos
Forget unboxing, packaging up goodies is where it's at. (Wired $)
10 Rampaging elephants are a real nuisance in Liberia

A simple device could help protect crops, humans, and the animals themselves. (NYT $)
Quote of the day
"I think it'd be crazy not to be a little bit afraid, and I empathize with people who are a lot afraid."
—Sam Altman, CEO of OpenAI, discusses the potential dangers of the AI revolution during a podcast appearance, Insider reports.
The big story
Broadband funding for Native communities could finally connect some of America's most isolated places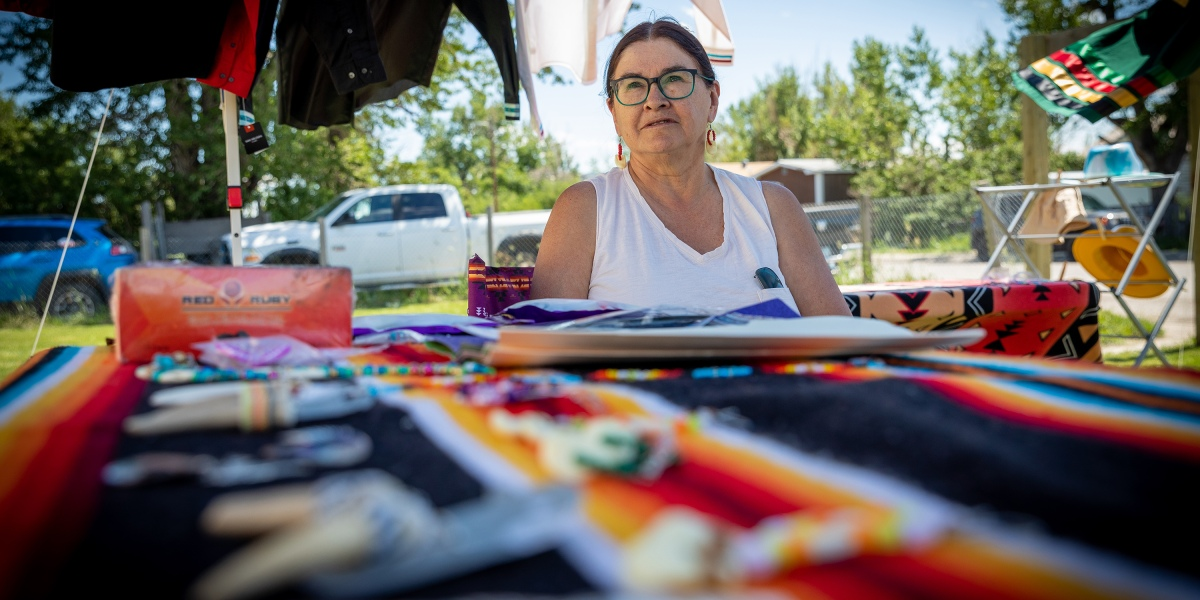 Rural and Native communities in the US have long had lower rates of cellular and broadband connectivity than urban areas, where four out of every five Americans live. Outside the cities and suburbs, which occupy barely 3% of US land, reliable internet service can still be hard to come by.
The covid-19 pandemic underscored the problem as Native communities locked down and moved school and other essential daily activities online. But it also kicked off an unprecedented surge of relief funding to solve it. Read the full story.
—Robert Chaney
We can still have nice things
A place for comfort, fun and distraction in these weird times. (Got any ideas? Drop me a line or tweet 'em at me.)
+ Frasier Crane scrutinizing video games is a true joy.
+ Have you got your tickets to this year's hottest tours yet? 
+ Why are the objects around us the color they are? This fascinating blog offers up some answers.
+ If you've never eaten a banana, trifle or hard boiled egg, you're not alone.
+ How should we process coincidences?