The Download: the future of IVF, and the people using Notion to plan their lives
This is today's edition of The Download, our weekday newsletter that provides a daily dose of what's going on in the world of technology.
The first babies conceived with a sperm-injecting robot have been born
Last spring, a group of engineers set out to test the sperm-injecting robot they'd designed.
One of the team, with no real experience in fertility medicine, used a Sony PlayStation 5 controller to position a robotic needle, which moved forward on its own, penetrating a human egg and dropping off a single sperm cell. Altogether, the robot was used to fertilize more than a dozen eggs.
The result of the procedures, say the researchers, was healthy embryos—and now two baby girls, who they claim are the first people born after fertilization by a "robot."
The startup behind the robot, Overture Life, says its device is an initial step toward automating IVF, and potentially making the procedure less expensive and far more common than it is today. MIT Technology Review has identified a half-dozen startups with similar aims. Some have roots in university laboratories specializing in miniaturized lab-on-a-chip technology.
But fully automating the process will be far from easy. Read the full story.
—Antonio Regalado
Meet the people who use Notion to plan their whole lives
Joshua Bergen is a very productive person. His secret is the workspace app Notion. Bergen, a product manager living in Vancouver, uses it to plan trips abroad, with notes and timelines. He uses it to curate lists of the movies and TV shows he's watched, and records what he thought of them. It's also a handy way to keep tabs on his 3D-printing projects, map snowboarding runs, and quickly update his cute list of the funny things his kid has said.
Bergen is one of a growing number of people using Notion, software intended for work, to organize their personal lives. They're using it in a myriad of different ways, from tracking their meditation habits and weekly schedules to logging their water intake and sharing grocery lists.
So why has a platform built to accommodate "better, faster work" struck such a chord when there are countless other planning apps out there? Read the full story.
—Rhiannon Williams
The inside story of New York City's 34-year-old social network, ECHO
When ECHO was founded, the World Wide Web was still being invented, and browsers weren't a thing. Its acronym stands for "East Coast Hang Out," because its founder Stacy Horn wanted to create a digital space that was social and unequivocally New York.
What she ended up making was a hotbed of culturally minded early internet enthusiasts—a social network before there was a term for that. ECHO was a blueprint for the larger-scale social networks that we see today, and it serves as a reminder that behind all networks are people, with a lot of words to exchange. Read the full story.
—Nika Simovich Fisher
The must-reads
I've combed the internet to find you today's most fun/important/scary/fascinating stories about technology.
1 Japan is attempting the world's first commercial lunar landing
If everything goes smoothly, it could trigger a new lunar race. (Wired $)
+ The lunar lander is due to touch down as soon as 11.40am ET. (Ars Technica)
+ It was launched into space in December last year. (Reuters)
+ What's next in space. (MIT Technology Review)
2  Iran hacked into a US election website in 2020
While the group was thwarted, it demonstrates how efficient such attacks can be. (WP $)
3 The power grid is an obstacle to protecting the climate 
Our future progress relies on identifying these bottlenecks and fixing them—fast.(New Yorker $)+ How heat could solve climate problems. (MIT Technology Review)
4 Your satellite phone might not work as promised
You can thank sour relations between China and the US for that. (WSJ $)
+ Who is Starlink really for? (MIT Technology Review)
5 Regulators aren't equipped to deal with demand for weight loss drugs
They have limited powers to rein in the influencers and doctors hyping the injections. (Undark)
+ Some people taking them have reported unexpected hair loss. (NBC News)
+ Weight-loss injections have taken over the internet. But what does this mean for people IRL? (MIT Technology Review)
6 TikTok is riddled with Chinese scams
Weight loss coffee and acne medicine are just some of their bogus goods. (FT $)
7 What are VPN makers really selling?
A lot of the web activity people use VPNs to conceal isn't exactly legal. (Bloomberg $)
8 Africa's enthusiasm for crypto is cooling
Now the continent's Web3 workers are pondering their own futures. (Rest of World)
+ Liquidators are on the hunt for a missing $43 million. (FT $)
+ It's okay to opt out of the crypto revolution. (MIT Technology Review)
9 How to tell if a review's been written by AI
ChatGPT's stock phrases are exploding across Amazon and Twitter. (Motherboard)
+ Snapchat's AI has got off to a rocky start, to say the least. (TechCrunch)
+ AI-spotting tools show bias against non-English speakers. (New Scientist $)
+ OpenAI's hunger for data is coming back to bite it. (MIT Technology Review)
10 Google Maps is surprisingly social 
Check out the reviews of your local businesses if you don't believe me. (The Atlantic $)
Quote of the day
"We are baddies on a budget."
—Jada, a TikTok influencer, extols the virtues of fake designer goods that look like the real deal, the Financial Times reports.
The big story
The mothers of Mexico's missing use social media to search for mass graves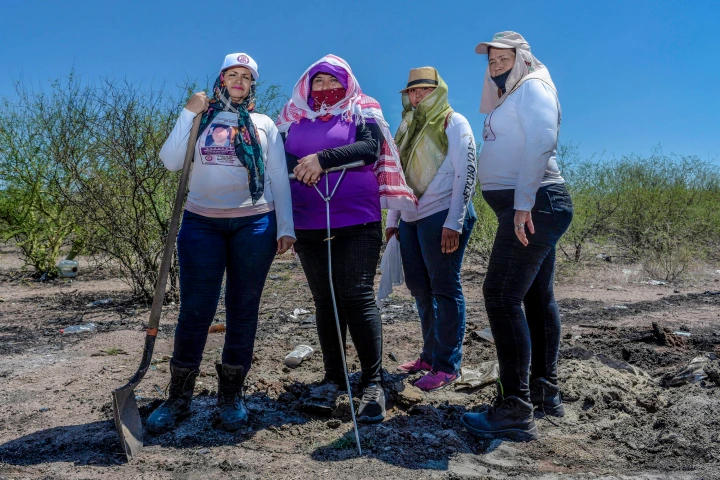 Mexico has long struggled with a history of kidnapping. As of October 5, there were 105,984 people officially listed as disappeared in Mexico. More than a third have vanished in the past few years, and while many are thought to have been kidnapped or forcibly recruited by criminal organizations, most are likely dead.
But authorities are still hesitant to get involved in the search for the missing. And so the task continues to fall on families. Much of the work they do now happens over social media, where people widely distribute photographs of missing relatives, coordinate search efforts, and raise awareness of the problem. But the work is not without challenges. Read the full story.
—Chantal Flores
We can still have nice things
A place for comfort, fun and distraction in these weird times. (Got any ideas? Drop me a line or tweet 'em at me.)
+ It's time to find out how high your food disgust tolerance is!
+ Trying to spot the northern lights? Your phone could help.
+ I could watch this lego sushi being constructed all day long.
+ How alien is an alien, really?
+ Here's why it's worth hanging onto that traditional clay jar you've been weighing up getting rid of.