The Download: the 15 ClimateTech Companies to Watch
This is today's edition of The Download, our weekday newsletter that provides a daily dose of what's going on in the world of technology.
The 15 ClimateTech Companies to Watch
It's easy to feel overwhelmed and terrified in the face of an ever-worsening climate crisis. But the glimmer of good news is that, for the most part, we have the tools necessary to begin driving down emissions, and momentum is building behind meaningful action.
This year, the editors at MIT Technology Review are launching a new annual list, MIT Technology Review's 15 Climate Tech Companies to Watch, to recognize this progress and the companies and technologies best positioned to accelerate those changes.
From startups to established businesses, these are the companies we believe have a promising shot at substantially cutting emissions or counteracting the dangers of climate change. Read the full story.
—James Temple
Check out the full list, covering everything from nuclear fusion to cow-free burgers, from fields as diverse as nuclear energy, carbon removal, steel, and cement.
Here's a sneak peek at just some of the innovators on the list:
+ NotCo and its plant-based foods. The Chilean company designs vegan burgers, mayonnaise, and chicken that tastes more like the real thing. Read the full story.
+ NuScale and its modular nuclear reactors. The company's approach could put nuclear power within reach of many more communities. Read the full story.
+ Sublime Systems and its clean cement. The firm is using electrochemistry to reinvent one of the world's dirtiest materials. Read the full story.
If you're interested in climate and energy technology, check out the latest edition of The Spark, our weekly newsletter covering all of the sector's most exciting news and innovations. Sign up to receive it in your inbox every Wednesday.
The must-reads
I've combed the internet to find you today's most fun/important/scary/fascinating stories about technology.
1 Amazon is launching its first internet satellites


Its arch rival SpaceX is light years ahead, though. (New Scientist $)
+ Japan has been working on a reusable rocket. (Ars Technica)
+ Amazon is about to go head to head with SpaceX in a battle for satellite internet dominance. (MIT Technology Review)
2 Neuralink is concealing grisly photos of its monkey test subjects
Videos of the experiments appear to have vanished, too. (Wired $)
+ Elon Musk wants more bandwidth between people and machines. Do we need it? (MIT Technology Review)
3 Google's new phones usher in a new era of AI 'fauxtography'
No sunset? No problem—simply edit one in. (WSJ $)
+ Google Assistant has finally received a sprinkling of generative AI magic. (Wired $)
4 The first witnesses have given evidence in Sam Bankman-Fried's trial
The prosecution made a compelling case; his defense, not so much. (The Verge)
+ The trial is being watched closely by the crypto industry. (NYT $)
+ SBF's lawyer complained he's been painted as a "cartoon villain." (FT $)
5 Meta's AI-generated stickers are already wildly inappropriate
Who could have predicted this? Pretty much everyone, that's who. (Motherboard)
+ Bing's image generator is still returning dodgy results, too. (404 Media)
+ AI models spit out photos of real people and copyrighted images. (MIT Technology Review)
6 Elon Musk is getting rid of news articles' headlines on X
Purely because he thinks it looks better without them. (Variety $)
+ What's next for X? Shopping and sports, apparently. (The Information $)
7 The streaming cold war is finally thawing
Services are more into sharing than they used to be.(Vox)
8 EVs cost too much in America
So buyers are turning their attention back to good old hybrids. (Bloomberg $)
+ Why EVs won't replace hybrid cars anytime soon. (MIT Technology Review)
9 A mad bitcoin conspiracy is spreading across the web
And it bears more than a passing resemblance to covid theories. (Economist $)
+ Meet the scientist at the center of the covid lab leak controversy. (MIT Technology Review)
10 The Las Vegas Sphere is made up of more than one million LEDs
It looks a whole lot less impressive up close. (Insider $)
Quote of the day
"September was, in my professional opinion as a climate scientist, absolutely gobsmackingly bananas."
—Zeke Hausfather, who works at the Berkeley Earth climate data project, expresses his shock at last month's record-breaking heat across the globe, the Guardian reports.
The big story
How to measure all the world's fresh water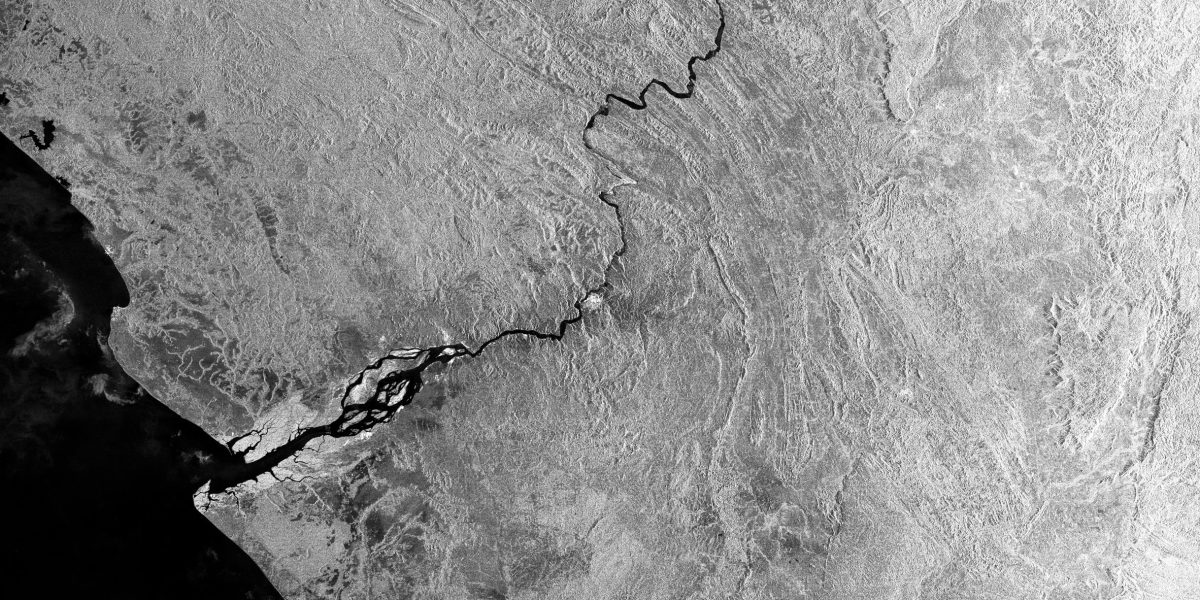 December 2021
The Congo River is the world's second-largest river system after the Amazon. More than 75 million people depend on it for food and water, as do thousands of species of plants and animals. The massive tropical rainforest sprawled across its middle helps regulate the entire Earth's climate system, but the amount of water in it is something of a mystery.
Hydrologists and climate scientists rely on monitoring stations to track the river and its connected water bodies, but what was once a network of some 400 stations has dwindled to just 15. Measuring water is key to helping people prepare for natural disasters and adapt to climate change—so researchers are increasingly filling data gaps using information gathered from space. Read the full story.
—Maria Gallucci
We can still have nice things
A place for comfort, fun and distraction in these weird times. (Got any ideas? Drop me a line or tweet 'em at me.)
+ A group of hardy triathletes braved the river Seine in Paris ahead of next year's Olympics (thanks Stefan!)
+ Finally—we now know how cats purr, but why they do it remains a mystery.
+ As the weather starts to turn, the fall rom-coms are a'calling.
+ If you're a keyboard nut, this new tome is right up your street.

+ Time to scream into the void.