The Download: restoring Iran's internet, and justice for a Chinese-American scientist
This is today's edition of The Download, our weekday newsletter that provides a daily dose of what's going on in the world of technology.
Big Tech could help Iranian protesters by using an old tool
After the Iranian government took extreme measures to limit internet use in response to the pro-democracy protests that have filled Iranian streets since mid-September, Western tech companies scrambled to help restore access to Iranian citizens.
Despite Signal asking its users to help run proxy servers, Google offering credits for its Outline VPN and Elon Musk's pledge to activate Starlink satellites, these workarounds aren't enough. Iranian telecommunications providers and authorities have already blocked Signal validation codes and shut down Google's VPN, and Starlink is likely to need thousands more satellites to get the internet up and running.
But there is something else that Big Tech could do, according to some pro-democracy activists and experts on digital freedom. Although it has received little attention—despite being something several major service providers offered until just a few years ago—reinstating the technology could be Big Tech's best chance at getting Iranian back online, and fast. Read the full story.
—Hana Kiros
A wrongfully terminated Chinese-American scientist was just awarded nearly $2 million in damages
It's been almost a decade since the Chinese-American hydrologist Sherry Chen's life was turned upside down by an unfounded accusation of spying, and this week, she finally received something like justice.
Chen's lawyers announced on Thursday that the scientist has won a historic $1.8 million settlement from the US Commerce Department for her wrongful prosecution and subsequent termination from the National Weather Service.
Her case was an early instance of what would become a much bigger pattern of the US government's increasing suspicion of Chinese and Chinese-American scientists amid growing competition between the US and China. The settlement represents a personal and symbolic victory after years of persecution. Read the full story.
—Eileen Guo
This toddler is the first to have been treated for her disease before she was born
According to her parents, Ayla Bashir is "a miracle." The talkative and smiley 15-month-old is also a pioneer—the first person to start receiving medical treatment for her genetic disorder before even being born.
But clinical trials on fetuses raise plenty of ethical questions. How should we be testing treatments on vulnerable fetuses that can't give consent? And what does this mean for the pregnant person? Read the full story.
This story is from The Checkup, our senior biotech reporter Jessica Hemzelou's weekly newsletter covering all things health. Sign up to receive it in your inbox every Thursday.
Congratulations to our award winners
The team at MIT Technology Review is excited to announce that not just one but two of our stories won awards from the American Association for the Advancement of Science's 2022 Kavli Science Journalism Award!
This piece by Kendra Pierre-Louis, about how rising groundwater caused by climate change could devastate coastal communities, feels especially timely during a COP27 dominated by conversations about adaptation, and who'll foot the bill for it. It won gold in the magazine category, with one judge saying: "Pierre-Louis' gripping and memorable article about rising groundwater vividly weaves together human stories and science to explain this under-appreciated consequence of climate change."Jane Qui's story about the controversy over the origins of the SARS-CoV-2 virus, built off unparalleled access to the Wuhan Institute of Virology and the lab of Shi Zhengli, won a silver prize for in-depth reporting. Read it for yourself.
The must-reads
I've combed the internet to find you today's most fun/important/scary/fascinating stories about technology.
1 Crypto exchange FTX used customers' money to fund its risky bets 
 Things are going from bad to worse for the exchange's customers. (WSJ $)
+ The company is now essentially worthless. (The Guardian)
+ Its legal boss told employees he's trying to preserve it. (Bloomberg $)
+ Some of FTX's assets have been frozen by a securities regulator. (FT $)
+ Here's where it all started going wrong for FTX. (Protocol)
2 Mass surveillance isn't making us feel safer
It isn't necessarily reducing crime, either. (Coda Story)
+ Marseille's battle against the surveillance state. (MIT Technology Review)
3 Scientists edited cancer patients' immune systems to attack tumors
The encouraging CRISPR trial's results could pave the way to more personalized treatment. (BBC)
+ Edits to a cholesterol gene could stop the biggest killer on earth. (MIT Technology Review)
4 Big Tech's layoffs are a cruel reminder that you are more than your job
These companies demand loyalty, but rarely return the favor. (Recode)
+ Social media is facing a reckoning right now. (The Atlantic $)
+ It's too late for tech's biggest bosses to apologize. (WSJ $)
5 Amazon is one step closer to automating its warehouses

Its new robotic arm can identify and sort items without humans. (Insider $)
+ It's also created a delivery drone that can fly in the rain. (Bloomberg $)
+ iRobot, which was recently acquired by Amazon, has laid off 100 workers. (Boston Globe $)
6 How Cambodia became the world's scam capital
Illegal gambling and online fraud companies traffic workers into the vast crime networks. (Rest of World)
7 Science is changing how we define parenthood
Combining the genomes of same-sex couples to create babies is on the horizon. (Neo.Life)
+ A contraceptive gel for men is seeking FDA approval. (Fast Company $)
+ A three-parent technique could help trans men have babies. (MIT Technology Review)
8 Uyghur-language apps are riddled with spyware
Security researchers suspect they're being used to relay information to China. (Bloomberg $)
9 Who are anti-bullying apps really helping?
Most of the time, it's another burden for the victim to bear. (Wired $)
10 AIs prefer talking to one another over humans
Try not to be offended. (New Scientist $)
Quote of the day
"It's cringe-y in retrospect." 
—Writer Adam Fisher reflects on an enthusiastic piece he wrote for venture capital company Sequoia Capital's website six weeks ago extolling the virtues of crypto exchange FTX, which has since collapsed.
The big story
What I learned from studying billions of words of online fan fiction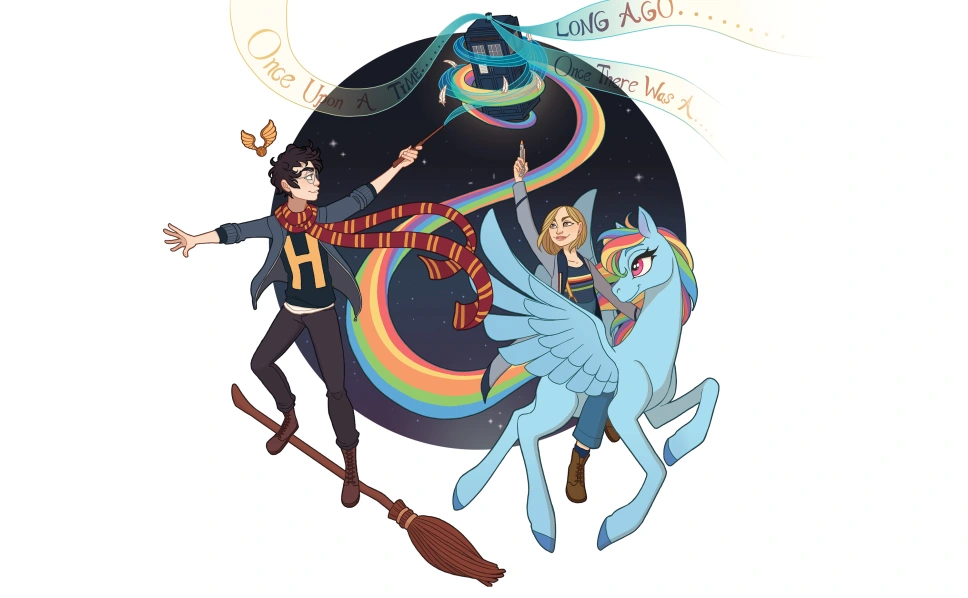 December 2019
Fan fiction has many literary precedents. John Milton wrote Paradise Lost using characters from the Bible. Shakespeare retold ancient folk stories.
Today, millions of young people are writing and sharing fan fiction on a variety of websites. They are giving and receiving feedback and teaching each other how to write. They're not only learning about writing; they're finding community, establishing identity, and exploring new trends that have not yet found mainstream acceptance.
But fan fiction could be more than just a source of support and self-expression for lonely kids; it could also be an important tool in formal education. Read the full story.
We can still have nice things
A place for comfort, fun and distraction in these weird times. (Got any ideas? Drop me a line or tweet 'em at me.)
+ Embarrassing though it may be, cats actually like it when we baby talk to them.
+ I could watch these die being printed all day.
+ I wouldn't want to get on the wrong side of these violent octopuses.
+ Apropos of nothing, let's take a moment to remember Tom Holland's incredible Umbrella performance on Lip Sync Battle.
+ Which pop star can stake a claim to the queen of spring?