The Download: police drones, and the Supreme Court's web cases
This is today's edition of The Download, our weekday newsletter that provides a daily dose of what's going on in the world of technology.
Welcome to Chula Vista, where police drones respond to 911 calls
In the skies above Chula Vista, California, where the police department runs a drone program 10 hours a day, seven days a week, it's not uncommon to see an unmanned aerial vehicle darting across the sky.
Chula Vista is one of a dozen departments in the US that operate what are called drone-as-first-responder programs, where drones are dispatched by pilots, who are listening to live 911 calls, and often arrive first at the scenes of accidents, emergencies, and crimes, cameras in tow.
But many argue that police forces' adoption of drones is happening too quickly. The use of drones as surveillance tools and first responders is a fundamental shift in policing, one without a well-informed public debate around privacy regulations, tactics, and limits. There's also little evidence available of its efficacy, with scant proof that drone policing reduces crime.
Now Chula Vista is being sued to release drone footage, illustrating how privacy and civil liberty groups are increasingly worried that the technology will dramatically expand surveillance capabilities and lead to even more police interactions with demographics that have historically suffered from overpolicing. Read the full story.
—Patrick Sisson
Four ways the Supreme Court could reshape the web
All eyes were on the US Supreme Court last week as it weighed up arguments for two cases relating to recommendation algorithms and content moderation, both core parts of how the internet works. While we won't get a ruling on either case for a few months yet, when we do, it could be a Very Big Deal.
All in all, it appeared as though the justices were hesitant to drastically reinterpret Section 230, the legal provision that gives web companies a shield to publish and moderate content. So where do we go from here? Our senior tech policy reporter Tate Ryan-Mosley has examined four potential scenarios, and what they mean for the future of the internet as we know it. Read the full story.
Tate's story is from The Technocrat, her new weekly newsletter covering power, politics, and Silicon Valley. Sign up to receive it in your inbox every Friday.
Vote in our TR10 poll
Earlier this year, we unveiled MIT Technology Review's 10 Breakthrough Technologies of 2023. Tomorrow is the last day to vote in our poll to help decide our 11th technology, and we'll be announcing the winner in The Download on Wednesday.
The must-reads
I've combed the internet to find you today's most fun/important/scary/fascinating stories about technology.
1 AI ethics experts worry that OpenAI's Bing experiment could be dangerous
They worry such AI-powered chatbots are being released prematurely. (WSJ $)
+ Timnit Gebru thinks using chatbots in search engines is "bonkers." (WSJ $)
+ These ChatGPT-generated crochet designs are completely unhinged. (The Guardian)
+ How OpenAI is trying to make ChatGPT safer and less biased. (MIT Technology Review)
2 Twitter is shedding yet more staff
Including Esther Crawford, who headed up Twitter Blue. (The Verge)
+ Twitter's expensive severance legal battles won't help its cash flow problem. (Insider $)
3 Instagram has a gore problem
Meme pages are increasingly sharing gruesome videos to boost engagement. (WP $)
4 SpaceX's mission to the ISS has been postponed
It's hoping to take off on Tuesday instead. (Ars Technica)
5 Tech's venture capitalists are turning humble
The ongoing tech crash may have something to do with it. (Economist $)+ What new startups can learn from businesses born from the pandemic. (WSJ $)
6 Gene editing could help to improve mental health
But experts are wary of marketing it as 'CRISPR for depression.' (The Guardian)
+ Next up for CRISPR: Gene editing for the masses? (MIT Technology Review)
7 LinkedIn is riddled with recruitment scams
Jobseekers are attractive targets for unscrupulous scammers. (FT $)+ The cyber-insurance market is bouncing back from the pandemic. (Bloomberg $)+ The 1,000 Chinese SpaceX engineers who never existed. (MIT Technology Review)
8 How Ariana Grande sparked a deepfake revolution
The singer's distinctive vocal style is ripe for aping. (The Information $)
+ AI voice actors sound more human than ever—and they're ready to hire. (MIT Technology Review)
9 What it's like to flog Silicon Valley's office furniture

Furniture flippers are selling equipment for a fraction of the price tech firms paid for it. (NYT $)
10 How a Chinese shopping app exploded in the US
Gamifying buying fish food really pays off. (Rest of World)
+ This obscure shopping app is now America's most downloaded. (MIT Technology Review)
Quote of the day
"These things lie to you. They mislead you. They pull you down false paths to waste time on things that don't work."
—Simon Willison, a programmer who has studied prompt engineering, reflects on the unreliability of generative AI systems to the Washington Post.
The big story
Are you ready to be a techno-optimist again?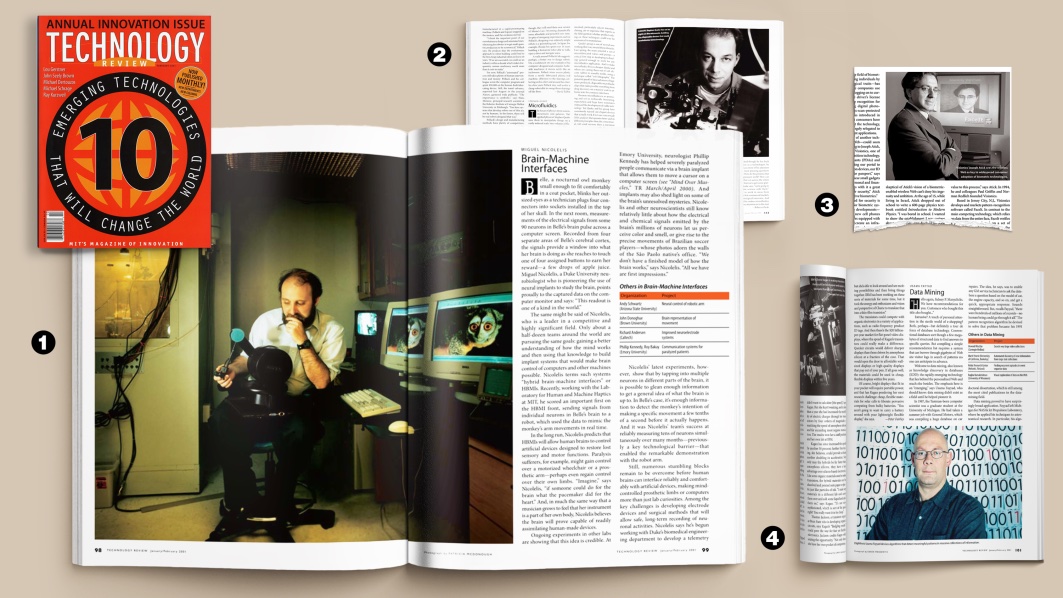 February 2021
Back in 2001, MIT Technology Review picked 10 emerging areas of innovation that we promised would "change the world." It was a time of peak techno-optimism.
We eschewed robotic exoskeletons and human cloning, as well as molecular nanomanufacturing and the dreaded gray goo of the nano doomsayers. Instead we focused on fundamental advances in information technology, materials, and biotech. Most of the technologies are still familiar: data mining, natural-language processing, microfluidics, brain-machine interfaces, biometrics, and robot design.
So how well did these technologies fulfill the dreams we had for them two decades ago? Here are a few lessons from the 2001 list. Read the full story.
—David Rotman
We can still have nice things
A place for comfort, fun and distraction in these weird times. (Got any ideas? Drop me a line or tweet 'em at me.)
+ Wow, the audacity of this groundhog 
+ UK residents have been dazzled by the northern lights over the weekend, which is usually only visible near the poles.
+ Is this the best Joy Division song? I think so.
+ Why we rewatch our favorite old TV shows again and again.
+ A love letter to Ben Affleck's love of Dunkin'.