The Download: OpenAI's data disaster, and screens in schools
This is today's edition of The Download, our weekday newsletter that provides a daily dose of what's going on in the world of technology.
OpenAI's hunger for data is coming back to bite it
OpenAI has just over a week to comply with European data protection laws following a temporary ban in Italy, and a slew of investigations in other EU countries. If it fails, it could face hefty fines, be forced to delete data, or even be banned.
But experts have told MIT Technology Review that it will be next to impossible for OpenAI to comply with the rules. That's because of the way data used to train its AI models has been collected: by hoovering up content off the internet. Read the full story.
—Melissa Heikkilä
How to teach kids who flip between book and screen
Since the pandemic closed schools in 2020, nearly all students have been learning on school-issued laptops or tablets. But many experts suspect that the technology may be changing how they read, as reading on a screen is fundamentally different from reading on the page.
Researchers who study young readers' brains and behaviors are eager to understand exactly where tech serves kids' progress in reading and where it may stand in the way. The questions are still so new that the answers are often unclear.
Educators who are more dependent than ever on digital tech to aid learning often have little or no guidance on how to balance screens and paper books. In a lot of ways, each teacher is winging it. Read the full story.
—Holly Korbey
This story is from our forthcoming Education print issue, due to launch next Wednesday. If you're not already a subscriber, you can sign up from just $69 a year—a special low price to mark Earth Week.
The must-reads
I've combed the internet to find you today's most fun/important/scary/fascinating stories about technology.
1 AI is nowhere near reaching general intelligence
But some researchers are convinced they're starting to see glimpses of it. (Wired $)
+ Reddit wants to be compensated for teaching AI models. (NYT $)
+ China's desire for control is being tested by its rapid AI development. (Economist $)
+ What an octopus's mind can teach us about AI's ultimate mystery. (MIT Technology Review)
2 NSO Group has been launching new types of iPhone attacks
Its hacking tools were used to target human rights activists in Mexico and beyond last year. (WP $)
+ Encrypted phones aren't enough to protect criminals, either. (New Yorker $)
3 There's a growing backlash against TikTok bans
Politicians are joining forces with activists to protest the suggested restrictions. (FT $)
4 Those viral weight loss drugs carry a pregnancy risk
Ozempic and Wegovy have been linked to birth defects—but there's little formal warning. (Vox) 
+ Weight-loss injections have taken over the internet. But what does this mean for people IRL? (MIT Technology Review)
5 Tech workers are being silenced with NDAs
The iron-clad contracts don't allow employees to tip off regulators. (Bloomberg $)

6 Car thieves are growing increasingly inventive
Seemingly-innocuous phones and Bluetooth speakers are just some of the devices they're using. (Motherboard)
7 All social media dies someday
Failing to deliver on their promises is the kiss of death. (The Verge)
+ We're witnessing the brain death of Twitter. (MIT Technology Review)
8 Netflix is killing off its DVD disc rental business


After more than 5.2 billion shipments.(WSJ $)
+ Disc devotees are mourning the loss of their beloved physical media. (WP $)
+ The company is pausing its plans to crack down on account sharing. (FT $)
9 Archery is online betting's hottest new sport
India, Bhutan, and Bangladesh are getting in on the act. (Rest of World)
+ How mobile money supercharged Kenya's sports betting addiction. (MIT Technology Review)
10 AI is a surprisingly good mixologist

Bartenders are less convinced, though. (The Atlantic $)
Quote of the day
"Money is accountability."
—Stephen Shackelford, a lawyer for voting systems company Dominion, speaks after Fox News reached a $787.5 million defamation settlement with the firm, reports NBC News.
The big story
I took an international trip with my frozen eggs to learn about the fertility industry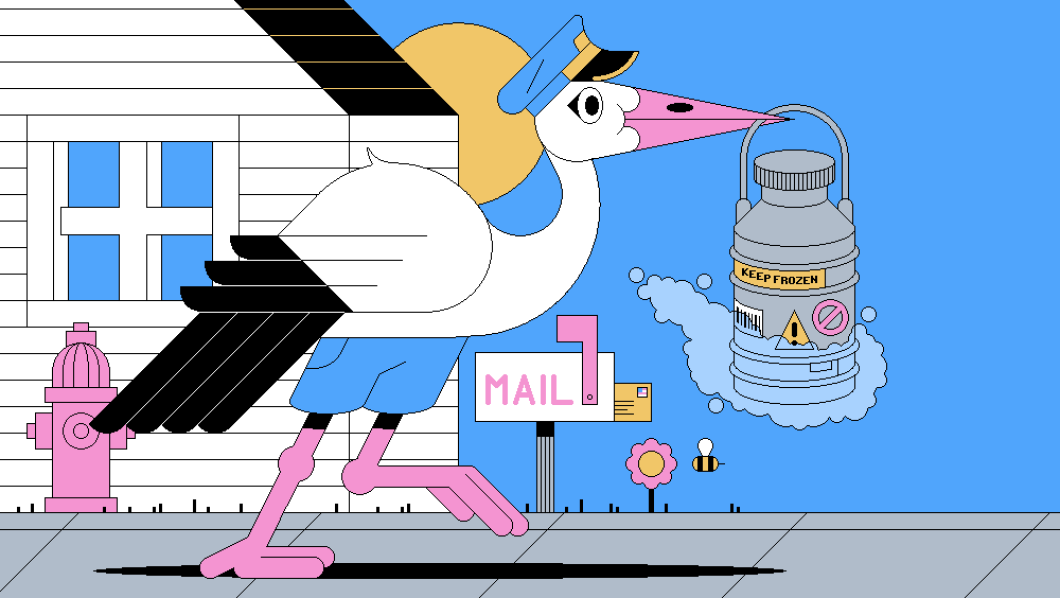 —Anna Louie Sussman
Like me, my eggs were flying economy class. They were ensconced in a cryogenic storage flask packed into a metal suitcase next to Paolo, the courier overseeing their passage from a fertility clinic in Bologna, Italy, to the clinic in Madrid, Spain, where I would be undergoing in vitro fertilization.
The shipping of gametes and embryos around the world is a growing part of a booming global fertility sector. As people have children later in life, the need for fertility treatment increases each year.
After paying for storage costs for six and four years, respectively, at 40 I was ready to try to get pregnant. Transporting the Bolognese batch served to literally put all my eggs in one basket. Read the full story.
We can still have nice things
A place for comfort, fun and distraction in these weird times. (Got any ideas? Drop me a line or tweet 'em at me.)
+ I'm calling it, this may just be the greatest tweet of all time.
+ I'm not sure any of the entries on this list is a genuine contender for the title of the most innately millennial album of all time, but what do I know.
+ Why the discovery of a dinosaur skull lends credence to the theory that Australia and South America were once joined together.
+ A series of recipes for the garlic lovers out there.

+ Formula 1 drivers and boy bands have more in common than you might imagine.