The Download: open source's future, and cancer drugs shortages
This is today's edition of The Download, our weekday newsletter that provides a daily dose of what's going on in the world of technology.
The future of open source is still very much in flux
When Xerox donated a new laser printer to MIT in 1980, the company couldn't have known that the machine would ignite a revolution.
While the early decades of software development generally ran on a culture of open access, this new printer ran on inaccessible proprietary software, much to the horror of Richard M. Stallman, then a 27-year-old programmer at the university.
A few years later, Stallman released GNU, an operating system designed to be a free alternative to one of the dominant operating systems at the time: Unix. The free-software movement was born, with a simple premise: for the good of the world, all code should be open, without restriction or commercial intervention.
Forty years later, tech companies are making billions on proprietary software, and much of the technology around us is inscrutable. But while Stallman's movement may look like a failed experiment, the free and open-source software movement is not only alive and well; it has become a keystone of the tech industry. Read the full story.
—Rebecca Ackermann
Rebecca's story is from the next upcoming issue of our print magazine, which is all about ethics. If you don't subscribe already, sign up to receive a copy when it publishes.
What we can learn from the cancer drug shortage
If you've been following health headlines, you may have heard that many prescription drugs are in short supply. ADHD medicines and steroids have also been hard to find. But for cancer patients, the lack of common chemotherapy drugs could mean the difference between life and death.
The current cancer drug crisis stems from a quality control incident in an Indian pharmaceutical manufacturing plant last fall. When it halted production, it was the first domino to fall in a chain that would lead to a nationwide shortage of cancer therapy drugs—and the impact on patients has been profound. Read the full story.
—Cassandra Willyard
This story is from The Checkup, our weekly biotech newsletter, which Cassandra is writing while Jessica Hamzelou is on sabbatical. Sign up to receive it in your inbox every Thursday.
The must-reads
I've combed the internet to find you today's most fun/important/scary/fascinating stories about technology.
1 AI-generated text is surfacing in academic journals
The problem is, it's still incredibly difficult to detect reliably. (Wired $)
+ Meta wants to challenge OpenAI with new code-generating software. (The Information $)
+ AI-text detection tools are really easy to fool. (MIT Technology Review)
2 Bitcoin is plunging again
Prices have plummeted after traders raced to sell up. (CoinDesk)
+ One potential reason? SpaceX has sold its crypto holdings. (WSJ $)
+ The NFT ecosystem is spiraling into chaos. (The Verge)
+ Bored Ape owners are furious that their purchases turned out to be bad investments. (Ars Technica)
3 The world's forests are rapidly dying  
Even including trees that scientists believed were virtually indestructible. (Knowable Magazine)
+ Inside the quest to engineer climate-saving "super trees." (MIT Technology Review)
4 Boogaloo Facebook pages keep returning from the dead
Followers of the movement, who are preparing for a future US Civil War, have grown wise to the company's algorithmic detection methods. (Vice)
5 Neurological device startups are booming
But many of them face a long wait for regulatory approval. (WSJ $)
+ A brain implant changed her life. Then it was removed against her will. (MIT Technology Review)
6 We need to change the way we recycle our waste
Unsurprisingly, AI is being touted as a solution. (The Atlantic $)
+ AI has a bad track record when it comes to climate change. (Slate $)
+ Why you might recycle a battery—and how to do it. (MIT Technology Review)
7 A Chinese company has pulled the plug on its romantic chatbot


Leaving dedicated female fans completely heartbroken. (Rest of World)
+ Tinder and other dating apps are no longer background-checking users. (The Verge)
8 Financial influencers want to educate their audiences
And they've got the qualifications to back it up. (FT $)
+ If you want to make money from influencing, don't rely on Amazon. (Bloomberg $)
9 The cult of Elon Musk is built on romance novel tropes
Just ask his long-suffering ex-wife. (Vox)
10 Counterfeit cheese is on the rise


But microchips are one high-tech way of making sure that fromage is the real deal. (The Guardian)
Quote of the day
"It thinks it's a road and it ain't, because it ain't got a brain and it can't tell that it's freshly poured concrete."
—Paul Harvey, a San Francisco resident, tells news site SFGate about a driverless car that managed to lodge itself in wet concrete.
The big story
This chemist is reimagining the discovery of materials using AI and automation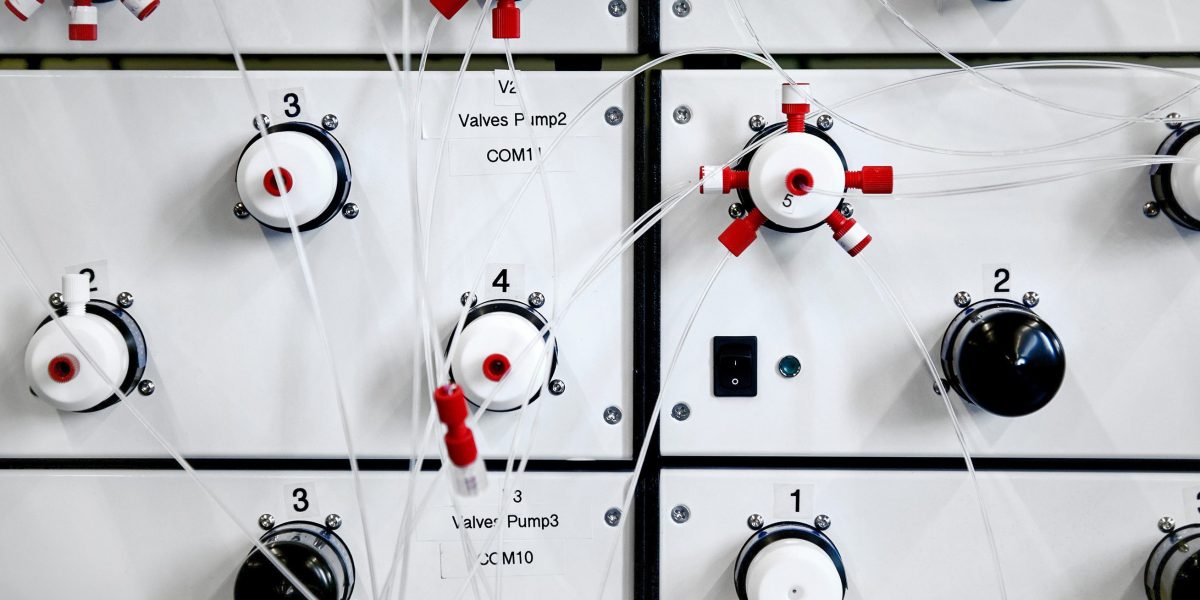 October 2021
Alán Aspuru-Guzik, a Mexico City–born, Toronto-based chemist, has devoted much of his life to contemplating worst-case scenarios. What if climate change proceeds as expected, or gets significantly worse? Could we quickly come up with the materials we'll need to cheaply capture carbon, or make batteries from something other than costly lithium?
Materials discovery—the science of creating and developing useful new substances—often moves at a frustratingly slow pace. The typical trial-and-error approach takes an average of two decades, making it too expensive and risky for most companies to pursue.
Aspuru-Guzik's objective—which he shares with a growing number of computer-­savvy chemists—is to shrink that interval to a matter of months or years. And advances in AI, robotics, and computing are bringing new life to his vision. Read the full story.
—Simon Lewsen
We can still have nice things
A place for comfort, fun and distraction in these weird times. (Got any ideas? Drop me a line or tweet 'em at me.)
+ The music of Brian Eno and soap: what more do you need for a relaxing start to your weekend?
+ Scandinavia may be the happiest area on earth, but they also love a bit of heavy metal.
+ This list of the best sci-fi movies set in space (as chosen by an astrophysicist) is fun.
+ Good luck to England's lionesses, who'll face Spain in the final of the women's soccer World Cup on Sunday!

+ Oh, to be a cat chasing a sunbeam.