The Download: making Bitcoin greener, and Elon Musk's chatbot plans
This is today's edition of The Download, our weekday newsletter that provides a daily dose of what's going on in the world of technology.
Ethereum moved to proof of stake. Why can't Bitcoin?
Last year, Ethereum went green. The second-most popular crypto platform transitioned to proof of stake, an energy-efficient framework for adding new blocks of transactions, NFTs, and other information to the blockchain.
When Ethereum completed the upgrade, known as "the Merge," in September, it reduced its direct energy consumption by 99%. Meanwhile, Bitcoin continues to consume as much energy as the entire country of the Philippines, with a single Bitcoin transaction using the same amount of energy as a single US household over the course of nearly a month.
But change may be on the horizon. Although the Bitcoin community has historically been fiercely resistant to change, pressure from regulators and environmentalists fed up with Bitcoin's massive carbon footprint may force them to rethink that stance.
So what would it take to make a switch? Read the full story.
—Amy Castor
This is part of our TR Explains series, in which our writers untangle the complex, messy world of technology to help you understand what's coming next. You can read more of them here.
If you'd like to read more about Ethereum:
+ Why Ethereum switched to proof of stake.Read the full story.
+ Our story from when The Merge happened. Read the full story.
Vote in our TR10 poll
Earlier this year, we unveiled MIT Technology Review's 10 Breakthrough Technologies of 2023. Today is your last chance to vote in our poll to help decide our 11th technology, and we'll be announcing the winner in tomorrow's edition of The Download.
The must-reads
I've combed the internet to find you today's most fun/important/scary/fascinating stories about technology.
1 Elon Musk is considering creating a ChatGPT rival chatbot
And his one will probably come without safeguards. Lovely. (The Information $)
+ Meta wants to follow Microsoft's lead and integrate AI into its products. (Axios)
+ What it's like to train ChatGPT to do your job. (The Atlantic $)
+ The ChatGPT-fueled battle for search is bigger than Microsoft or Google. (MIT Technology Review)
2 The White House is split over covid's origins
The Energy Department says the virus may have originated from a lab, but other agencies still believe it came from an infected animal. (WSJ $)
+ The department says it has "low confidence" in its convictions. (NYT $)
+ Meet the scientist at the center of the covid lab leak controversy. (MIT Technology Review)
3 Scientists want to make a biocomputer powered by human brain cells
Welcome to the world of "organoid intelligence." FT $)
+ How we'll transplant tiny organ-like blobs of cells into people. (MIT Technology Review)
4 Fossil fuel employees are making the leap to renewable firms
Green energy companies are swooping in to hire laid off oil and gas workers. (NYT $)
5 What are the risks of letting AI treat our mental health? 
The problem is, computer systems aren't capable of empathy. (New Yorker $)
+ The therapists using AI to make therapy better. (MIT Technology Review)
6 Canada has banned TikTok from government devices
Following in the footsteps of both the US and the European Commission. (BBC)
7 The US military plans to use facial recognition-equipped drones
In theory, it could be used to identify targets in the future. (New Scientist)
8 India's most surveilled cities are also its least safe
Crime rates are rising, despite an abundance of CCTV cameras. (Rest of World)
+ Marseille's battle against the surveillance state. (MIT Technology Review)
9 How the pandemic turned everything into an event
Zoom has a lot to answer for. (Slate $)
10 Gen Z is baffled by old-school office tech

Scanners and printers in particular are unfamiliar territory. (The Guardian)
Quote of the day
"The only thing that I was worried about: 'Is this thing going to work?' And it did."
—Martin Cooper, who made the first public call on a cellphone 50 years ago, recalls the anxiety he felt that day, reports ABC News.
The rare spots of good news on climate change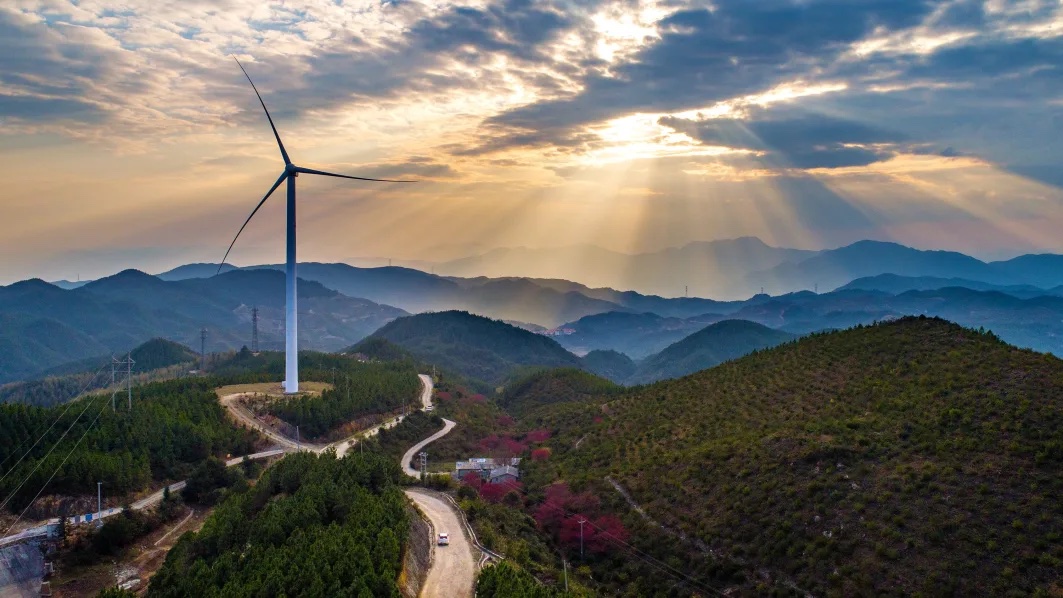 December 2021
Record-shattering heat waves, floods, and wildfires were among just some of the climate disasters that ravaged the world in 2021, killing thousands and straining the limits of our disaster responders.
But amid these stark signs, there were also indications that momentum is beginning to build behind climate action. Indeed, there's good reason now to believe that the world could at least sidestep the worst dangers of global warming.
In fact, it's worth highlighting and reflecting on the advances the world has made, because it demonstrates that it can be done—and could provide a template for achieving more. Read the full story.
—James Temple
We can still have nice things
A place for comfort, fun and distraction in these weird times. (Got any ideas? Drop me a line or tweet 'em at me.)
+ Plenty of laughter, no shouting, and reading newspapers every morning: these 100 tips from 100 centenarians are so life-affirming.
+ This sauna wrapped around a tree looks dreamy.
+ Mmm, kombucha electronics.
+ Brb, I'm off to the MIT Banana Lounge.
+ Why do we stop exploring new music as we grow older? Turns out there's an explanation for that.