The Download: inaccurate welfare algorithms, and training AI for free
This is today's edition of The Download, our weekday newsletter that provides a daily dose of what's going on in the world of technology.
An algorithm intended to reduce poverty might disqualify people in need
The news: An algorithm funded by the World Bank to determine which families should get financial assistance in Jordan likely excludes people who should qualify, an investigation from Humans Rights Watch has found.
Why it matters: The organization identified several fundamental problems with the algorithmic system that resulted in bias and inaccuracies. It ranks families applying for aid from least poor to poorest using a secret calculus that assigns weights to 57 socioeconomic indicators. Applicants say that the calculus is not reflective of reality, and oversimplifies people's economic situation.
The bigger picture: AI ethics researchers are calling for more scrutiny around the increasing use of algorithms in welfare systems. One of the report's authors says its findings point to the need for greater transparency into government programs that use algorithmic decision-making. Read the full story.
—Tate Ryan-Mosley
We are all AI's free data workers
The fancy AI models that power our favorite chatbots require a whole lot of human labor. Even the most impressive chatbots require thousands of human work hours to behave in a way their creators want them to, and even then they do it unreliably.
Human data annotators give AI models important context that they need to make decisions at scale and seem sophisticated, often working at an incredibly rapid pace to meet high targets and tight deadlines. But, some researchers argue, we are all unpaid data laborers for big technology companies, whether we are aware of it or not. Read the full story.
—Melissa Heikkilä
Melissa's story is from The Algorithm, her weekly AI newsletter. Sign up to receive it in your inbox every Monday.
If you'd like to hear more about the generative AI revolution, why not tune into EmTech Next—MIT Technology Review's digital transformation event?
Today's programming kicks off at 11am ET, and runs until Thursday, including sessions investigating AI in cybersecurity, the importance of data, and the new rules we need for AI. Tickets are still available.
The must-reads
I've combed the internet to find you today's most fun/important/scary/fascinating stories about technology.
1 Microsoft's $69 billion deal to purchase Activision could be in danger
The US Federal Trade Commission is concerned that it'd give Microsoft too much power over its rivals. (WP $)
+ It's extremely serious about blocking the merger. (Vox)
2 Twitter is still riddled with scams and spam accounts
Despite Elon Musk's insistence the company has wiped out 90% of them. (WSJ $)
+ Thanks to Musk, loads of bots are verified these days, too. (Motherboard)
+ Fox News says that Tucker Carlson's new Twitter show violates his contract. (NBC News)
+ We're witnessing the brain death of Twitter. (MIT Technology Review)
3 An anti-porn app was used to send a man to jail
His entire family has also been subjected to extreme surveillance. (Wired $)
4 A robotaxi may have blocked emergency crews from attending a mass shooting
But the car's makers insist it wasn't in the way. (The Guardian)
+ Cars can fuel racial discrimination, too. (Vox)
5 The bitter fight for control of the world's deep-sea internet cables
The US has successfully blocked China from dominating the market—for now. (FT $)
6 How MrBeast's extreme acts of altruism charmed YouTube
Fans can't get enough of his bizarre brand of ostentatious philanthropy. (NYT $)
7 California is burning
Climate change is supercharging deadly wildfires, and it's only getting worse. (The Atlantic $)+ Why Montana is a climate change trailblazer state. (Economist $)
+ What the complex math of fire modeling tells us about the future of California's forests. (MIT Technology Review)
8 South Africans are finding gig work using a power outage app
The hyperlocal app is a smart way to reach neighbors instantly. (Rest of World)
9 Learning a new language is easier than you think
Listening to recordings while you sleep can help—but it won't make you fluent. (New Scientist $)
+ Meta's new AI models can recognize and produce speech for more than 1,000 languages. (MIT Technology Review)
10 AI is giving John Lennon a voice once again
Engineers used the technology to produce what Paul McCartney is calling "the final Beatles record." (BBC)
Quote of the day
"It all looked fairly reckless."
—Jack Dorsey, co-founder of Twitter, reflects on how the volatile way Elon Musk purchased the company set the precedent for how he would run it, Insider reports.
The big story
Inside the rise of police department real-time crime centers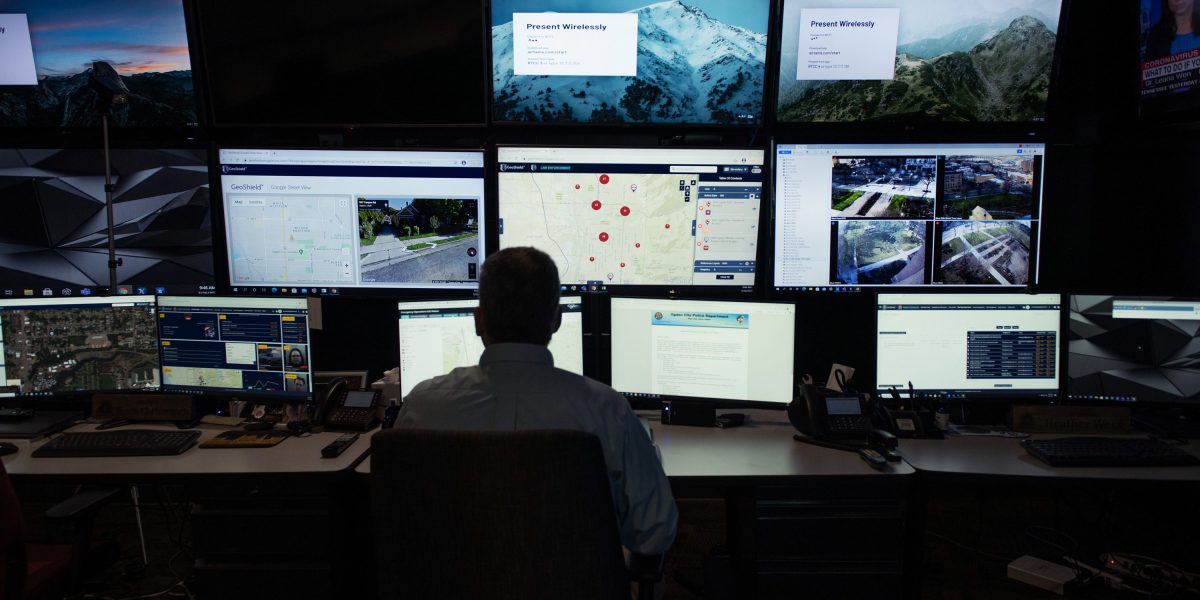 April 2021
At a conference in New Orleans in 2007, Jon Greiner, then the chief of police in Ogden, Utah, heard a presentation by the New York City Police Department about a sophisticated new data hub called a "real time crime center."
In the early 1990s, the NYPD had pioneered a system called CompStat that aimed to discern patterns in crime data, since widely adopted by large police departments around the country. With the real time crime center, the idea was to go a step further: What if dispatchers could use the department's vast trove of data to inform the police response to incidents as they occurred?
Around the country, the expansion of police technology has been driven more by conversations between police agencies and their vendors than between police and the public they serve. And as federal and state laws take their time to catch, who gets to decide how close a tool can really get to your constitutional rights? Read the full story.
—Rowan Moore Gerety
We can still have nice things
A place for comfort, fun and distraction in these weird times. (Got any ideas? Drop me a line or tweet 'em at me.)
+ Grease is 43 years old this week!
+ Congratulations to Daniel Connolly, who has become the fourth man to beat a horse in an annual 22-mile race.
+ What's up with Bill Gates' Gatsby-esque green lantern?
+ These spinning wheel marker pen videos are ridiculously compelling.
+ Don't call it a comeback—cassette tapes never (fully) went away.