The Download: hydrogen-powered planes, and abortion pills
This is today's edition of The Download, our weekday newsletter that provides a daily dose of what's going on in the world of technology.
Hydrogen-powered planes take off with startup's test flight
The news: In a record trip for low-carbon aviation, a startup has completed a test flight of a 19-seat aircraft powered in part by hydrogen fuel cells. ZeroAvia, a leader in developing hydrogen-electric systems for planes, flew its largest plane to date for around 10 minutes after taking off from Cotswold Airport in the UK.
How they did it: During the flight, the plane's left engines were powered by a combination of hydrogen fuel cells and batteries, while the right side relied on the fossil fuel kerosene.
Why it matters: It's a significant step for zero-emissions flight. Aviation accounts for about 3% of global greenhouse gas emissions, and the industry is growing. Hydrogen fuel cells represent one possible route that might reduce emissions from the aviation industry—and ZeroAvia is confident it's on track for a commercial launch in 2025. Read the full story.
—Casey Crownhart
TR10: Abortion pills via telemedicine
Access to abortion care has narrowed dramatically in the US post-Roe. But there's been one big shift in the other direction: the ability to access care without leaving home.
In 2021, during the pandemic, the US Food and Drug Administration temporarily allowed healthcare providers to mail patients two pills—mifepristone and misoprostol—that, when taken together, can induce an abortion.
A year later, the US Supreme Court ruled that abortion is not a constitutional right, and nonprofits and startups stepped up to meet the surging demand for the pills. Access to medication abortion is not a solved problem. However, the foresight of these organizations brought care to many at a critical time. Read about the shifting stakes of obtaining abortion pills over telemedicine.
Abortion pills via telemedicine is one of MIT Technology Review's 10 Breakthrough Technologies of 2023. Read over the rest of the list, and vote in our poll to decide what our final 11th technology should be.
How CRISPR is making farmed animals bigger, stronger, and healthier
The CRISPR gene-editing tool has been making headlines for the last 10 years, since scientists showed it could be used to easily alter the genome of a living organism.
But while the technology could eventually revolutionize healthcare for humans, it could also transform farming, including aquaculture. Researchers have inserted an alligator gene into catfish—not to make these fish more alligator-like, but to make them more resistant to disease.
This isn't the first time scientists have tried to tweak the genomes of farmed animals. But although gene-editing tools like CRISPR should allow them to fast-forward the process, don't expect to find CRISPR-engineered animals on supermarket shelves just yet. Read the full story.
—Jessica Hamzelou
Jessica's story is from The Checkup, MIT Technology Review's weekly newsletter giving you the inside track on all things biotech. Sign up to receive it in your inbox every Thursday.
The must-reads
I've combed the internet to find you today's most fun/important/scary/fascinating stories about technology.
1 Covid is being left off death certificates in China
Medical professionals are being pressured to cite other causes of death. (FT $)
+ China's cracking down on covid-related "gloomy sentiments." (The Guardian)
+ There's been a huge jump in covid hospitalizations. (Reuters)
+ The right mix of drugs could help to treat long covid. (The Atlantic $) 
2 The US Supreme Court is weighing up the future of the internet
It's poised to reconsider if web platforms are legally liable for content. (NYT $)
+ Firms' existing legal protections are unpopular among tech critics in both major US political parties. (FT $)
3 Google is cutting 12,000 jobs
The CEO says it wants to sharpen its focus on AI. (The Verge)
+ ChatGPT is making it nervous enough to call in the big guns. (NYT $)
+ The right—and very wrong—ways to use ChatGPT. (WP $)
4 A sophisticated ad scam attacked 11 million phones
It's one of the biggest, most complicated schemes ever uncovered. (Wired $)
5 Twitter is being sued by the experts it hired to force Elon Musk to buy it
The consulting firm wants Twitter to cough up $2 million. (Bloomberg $)
+ Elon Musk could appear in court today in a separate legal challenge. (The Guardian) 
6 Weather forecasting has a hype problem
Weather prediction startups tend to overpromise and underdeliver. (WP $)
7 Should we think twice about studying ancient DNA?
Extracting DNA from the long-dead is an ethical quagmire. (Knowable Magazine)
+ DNA that was frozen for 2 million years has been sequenced. (MIT Technology Review)
8 It's tough to grasp just how massive the universe really is
But Henrietta Leavitt's work gave us a yardstick to measure it with. (Vox)
+ NASA's return to the moon is off to a rocky start. (MIT Technology Review)
9 Make way for the podcast-hosting child prodigies
One host started his own show at just seven years old. (The Guardian)
10 Don't let that cute dog photo fool you

Toxic ideas can be easily masked online behind animal imagery. (Slate $)
Quote of the day
"It's the same criminals, they're just repainting their get-away cars."
—Bill Siegel, chief executive officer and co-founder of cyber extortion response company Coveware, reflects on how a core group of hackers is behind the vast majority of ransomware attacks, Bloomberg reports.
The big story
Inside the race to make human sex cells in the lab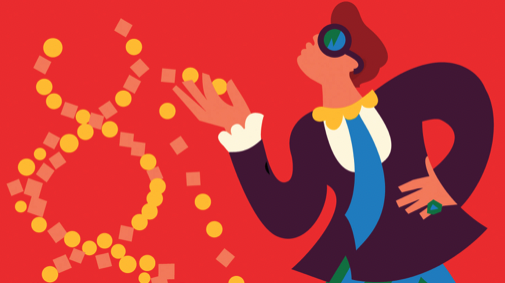 August 2022
The way we make babies could be about to change. Maybe.
An embryo forms when sperm meets egg. But what if we could start with other cells—if a blood sample or skin biopsy could be transformed into "artificial" sperm and eggs? What if those were all you needed to make a baby?
That's the promise of a radical approach to reproduction. Scientists have already created artificial eggs and sperm from mouse cells and used them to create mouse pups. Artificial human sex cells are next.
The problem is actually getting there and—maybe even harder—untangling the knot of ethical issues that will come up along the way. Read the full story.
—Jess Hamzelou
We can still have nice things
A place for comfort, fun and distraction in these weird times. (Got any ideas? Drop me a line or tweet 'em at me.)
+ We love you, F. Murray Abraham!
+ Is it a bird? Is it a plane? No, it's Toadzilla!
+ This made me chuckle: Prince Harry's memoir is a sobering reminder why British people can't open up.
+ Yikes, consider this a warning about the dangers of speed eating (thanks Will!)
+ How to be the best person you possibly can be—according to the people who know best.