The Download: heat pumps for everyone, and fake Twitter accounts in China
This is today's edition of The Download, our weekday newsletter that provides a daily dose of what's going on in the world of technology.
The surprising truth about which homes have heat pumps
The news: Heat pumps, which use electricity to both heat and cool homes, are now just as common in low-income households in the US as they are in wealthier ones. This bucks the trend among consumer climate technologies, many of which are much more likely to be adopted by the wealthy.
Why it matters: Heating buildings is a huge climate problem—roughly 10% of global emissions come from our efforts to keep our indoor spaces comfortable. But while governments are eager for people to adopt new appliances that could replace systems that burn fossil fuels, historically, such changes haven't been distributed equally. Heat pumps, at least in the US, seem to be different. That's good news.
The big picture: The number of households that rely on heat pumps is still small, and there's no guarantee that they will continue to be adopted at equal rates by households with different incomes. But financial incentives could help to bring the cost savings and climate progress associated with heat pumps to everyone, not just the rich. Read the full story.
—Casey Crownhart
The Twitter accounts that impersonate Chinese celebrities for clout and cash
A growing number of Twitter accounts have been impersonating outspoken Chinese intellectuals or celebrities. Their posts, which frequently criticize the Chinese government, often draw hundreds of thousands of followers before the deception is publicly exposed.
Although Twitter has been banned in China since 2009, more Chinese users have been accessing the platform with VPN tools in recent years. It's also become a place rife with spam, scams, and content farms, which has only gotten worse under Elon Musk's reign. But the emergence of accounts that impersonate Chinese celebrities who don't have a Twitter presence—likely to farm followers—is a new, and worrying, trend. Read the full story.
—Zeyi Yang
Zeyi's story is from China Report, his weekly newsletter giving you the inside track on all things China. Sign up to receive it in your inbox every Tuesday.
The must-reads
I've combed the internet to find you today's most fun/important/scary/fascinating stories about technology.
1 Reddit is doubling-down on its controversial API plans
Its CEO is committed to pushing through the changes, in spite of user pushback. (The Verge)
2 Microsoft has been temporarily blocked from buying Activision Blizzard
Which is good news for US regulators, and a blow to Microsoft's ambitions. (BBC)
3 Nvidia is officially a trillion dollar company
And demand for its chips is showing no signs of waning. (WSJ $)
+ Oracle's star is on the rise, too. (Economist $)
+ These simple design rules could turn the chip industry on its head. (MIT Technology Review)
4 Binance has pushed back against US regulators 
The embattled crypto exchange argued that its business was in danger of folding. (NYT $)
5 NASA has designed a climate change-fighting plane
It's lighter, faster, and a whole lot more green than traditional airplanes. (Vox)
+ This is what's keeping electric planes from taking off. (MIT Technology Review)
6 How the 2024 US election could play out on Twitter
Republican candidates are likely to get special treatment, for starters. (New Yorker $)
7 Inside the race to bring flying taxis to market
A handful of companies are vying to be the first—but safety concerns abound. (FT $)
+ Saudi Arabia is launching a new airline carrier in 2025. (Bloomberg $)
+ These aircraft could change how we fly. (MIT Technology Review)
8 Silicon Valley's jobseekers are pivoting to AI
While it's still tough to find a job, specializing in AI is smart career future-proofing. (Bloomberg $)
+ Less brutal commutes would help to lure employees back to offices. (NY Mag $)
+ How ChatGPT will revolutionize the economy. (MIT Technology Review)
9 We should try to embrace the world's noises

Over-reliance on noise-canceling tech can leave us hypersensitive to the slightest sound. (Wired $)
10 Creator economy start-ups are in freefall


Their hopes of capitalizing on creators' popularity have been dashed. (The Information $)
Quote of the day
"It's a damn ghost town."
—Rachel Leamy, who runs a shoeshine business in San Francisco, tells the Washington Post how the once-vibrant city is significantly emptier than it was pre-pandemic.
The big story
Why are products for older people so ugly?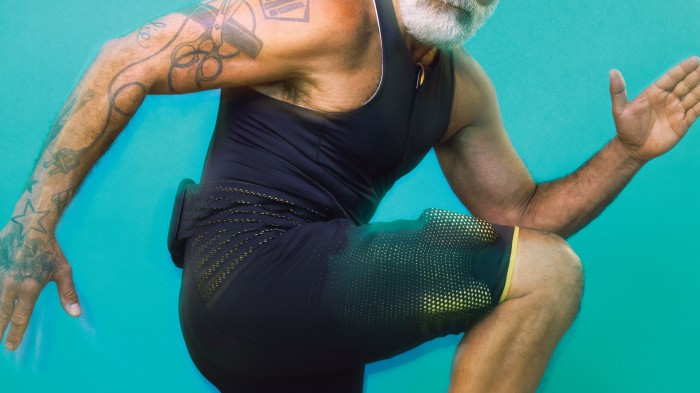 On a drizzly Tuesday afternoon in San Francisco, people are filtering into a small conference room appointed with a whiteboard and subdued black-and-white photography. They're here to talk about technology—a scene that should be entirely unremarkable in a city filled with small white conference rooms where people are doing exactly the same.
The key difference is that the average age of the 11 women and five men gathered here is somewhere in the mid-70s. They are the Longevity Explorers, part of an experiment to improve the way technology is developed for older adults.
Experts say older adults who still work, or who spend time with younger family members who use technology, are more apt to pick it up. Yet the list of lousy products for older people is long—and progress is incremental. Read the full story.
—Andy Wright
We can still have nice things
A place for comfort, fun and distraction in these weird times. (Got any ideas? Drop me a line or tweet 'em at me.)
+ It turns out that humans may have been knocking about in South-East Asia considerably longer ago than we previously thought.
+ This graphic home is like living in an edgy Patrick Caulfield screenprint.
+ What do hand models do all day? Finally, some answers!
+ Enjoy this cool footage of a bubble of plasma exploding in front of the sun.
+ While the Prohibition era may be associated with alcohol, it turns out it was a golden age for ice cream.