The Download: gene-edited chickens, and China's green companies
This is today's edition of The Download, our weekday newsletter that provides a daily dose of what's going on in the world of technology.
How gene editing could help curb the spread of bird flu
The news: Gene editing could help prevent chickens from catching and spreading bird flu, new research suggests.
How they did it: Researchers used the gene-editing tool CRISPR to alter the DNA of 10 chickens to resist the bird flu virus and then exposed all of them to a low dose of it. Only one of the 10 chickens caught the virus, and that chicken did not pass it on to any others.
Why it matters: Bird flu has killed millions of both wild and farmed birds across the world in recent years. It's increasingly affecting mammals as well, making the task of finding ways to curb it even more urgent. Read the full story.
—Abdullahi Tsanni
These Chinese companies prove green tech can be profitable
Last week, MIT Technology Review released a brand-new list: 15 Climate Tech Companies to Watch. These are the companies from all around the world that we think have the potential to make a significant impact on the future of our climate.
Among them are two Chinese companies you should know about. One is BYD, the world's top electric-vehicle maker, which has just produced its 500 millionth EV. Its cars are making EVs far more accessible, and could ultimately help countries including China to dramatically reduce emissions from transportation.
The other is GEM, which stands for Green Eco-Manufacture; it makes the supply chain for batteries more environmentally friendly by recycling the minerals in them.
Zeyi Yang, our China reporter, has dug into the companies' histories, key products, and technological advantages, as well as the potential challenges they face. Read the full story, and read the rest of the list of Climate Tech Companies to Watch.
Zeyi's story is from China Report, our weekly newsletter covering tech and power in China. Sign up to receive it in your inbox every Tuesday.
The must-reads
I've combed the internet to find you today's most fun/important/scary/fascinating stories about technology.
1 Caroline Ellison says SBF directed her to commit crimes
She repeatedly laid the blame for the decisions that led to FTX's implosion at his door. (NYT $)
+ Her testimony is damning evidence against Bankman-Fried. (NY Mag $)
+ She's expected to return to the stand later today. (Slate $)
2 Elon Musk is undermining X's attempts to curb Israel-Hamas disinformation
Do we expect anything else at this point? (Wired $)
+ The EU has warned Musk about the fake news rife on the platform. (The Guardian)
+ X still has a sizable debt to worry about. (Slate $)
3 Crypto's gaming gamble isn't paying off 
Its pivot to gaming has failed to sufficiently launder its reputation. (WSJ $)
+ It's okay to opt out of the crypto revolution. (MIT Technology Review)
4 Exports of China's EVs and hybrids are on the rise
That's in spite of the EU's intentions to investigate potential subsidy foul play. (Bloomberg $)
+ Europe is about to crack down on Chinese electric cars. (MIT Technology Review)
5 How AI sees the world
As a series of reductive, sometimes racist stereotypes. (Rest of World)
+ These new tools let you see for yourself how biased AI image models are. (MIT Technology Review)
6 A single-seater flying car is going on sale next year
For a mere $190,000. (Economist $)
+ These aircraft could change how we fly. (MIT Technology Review)
7 Do you believe in the digital afterlife?
These companies are happy to preserve your memory—for a price. (IEEE Spectrum)
+ Technology that lets us "speak" to our dead relatives has arrived. Are we ready? (MIT Technology Review)
8 Amazon contract workers say they were exploited in Saudi Arabia
They claim they were mistreated and forced to work in harsh conditions. (The Guardian)
9 Forensic marking tech is being used to protect valuable shipwrecks 
The invisible markers can prevent opportunistic thieves from selling on plundered spoils. (FT $)
10 The day of the password is nearly over
Google has declared that passkeys are the way forward. (The Verge)
Quote of the day
"We don't need an 'ivory tower' product — we need something that can work for everyone!"
—Tris Warkentin, a director of product management for Google's Bard AI, says the chatbot is supposed to be usable for all, Bloomberg reports.
The big story
Inside the experimental world of animal infrastructure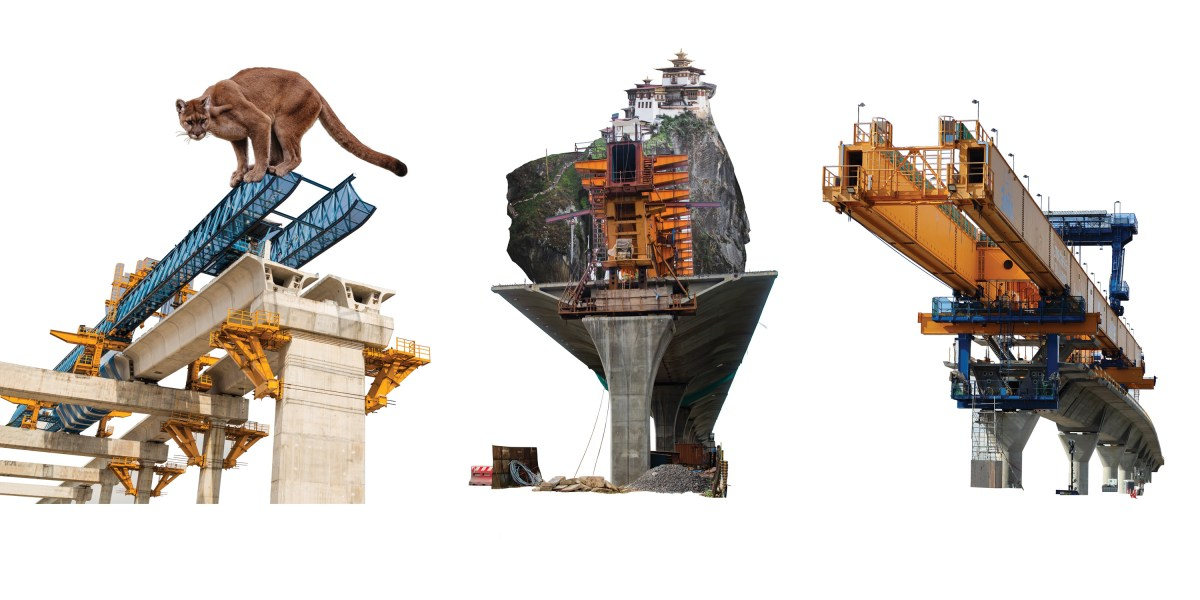 Around the world, cities are building a huge variety of structures intended to mitigate the impacts of urbanization and roadbuilding on wildlife. The list includes green roofs, tree-lined skyscrapers, living seawalls, artificial wetlands, and all manner of shelters and "hibernacula."
But the data on how effective these approaches are remains patchy and unclear. That is true even for wildlife crossings, the best-studied and most heavily funded example of such animal infrastructure. Read the full story.
—Matthew Ponsford
We can still have nice things
A place for comfort, fun and distraction in these weird times. (Got any ideas? Drop me a line or tweet 'em at me.)
+ More than 140 years after its construction began, Barcelona's La Sagrada Família is nearing completion.
+ Wait a minute: is that Flubber?!
+ Short films are a perfect use of your time.
+ It's time to bid farewell to 2023's hottest interior trends ($)
+ Pomegranates are notoriously tough to eat, but maybe this cheeky hack could help.