The Download: fixing the internet, and detecting AI consciousness
This is today's edition of The Download, our weekday newsletter that provides a daily dose of what's going on in the world of technology.
How to fix the internet
We're in a very strange moment for the internet. We all know it's broken. But there's a sense that things are about to change. The stranglehold that the big social platforms have had on us for the last decade is weakening.
There's a sort of common wisdom that the internet is irredeemably bad. That social platforms, hungry to profit off your data, opened a Pandora's box that cannot be closed.
But the internet has also provided a haven for marginalized groups and a place for support. It offers information at times of crisis. It can connect you with long-lost friends. It can make you laugh.
The internet is worth fighting for because despite all the misery, there's still so much good to be found there. And yet, fixing online discourse is the definition of a hard problem. But don't worry. I have an idea. Read the full story.
—Katie Notopoulos
This story is from the next magazine edition of MIT Technology Review, set to go live on October 25. It's all about society's hardest problems, and how we should tackle them. If you don't subscribe already, sign up now to get a copy when it lands.
Why it'll be hard to tell if AI ever becomes conscious
History is rich with examples of people trying to breathe life into inanimate objects, and of people selling hacks and tricks as "magic." But this very human desire to believe in consciousness in machines has never matched up with reality.
Creating consciousness in artificial intelligence systems is a dream for many technologists. Large language models are the latest example of our quest for clever machines, and some people (contentiously) claim to have seen glimmers of consciousness in conversations with them.
AI systems don't have brains, so it's impossible to use traditional methods of measuring brain activity for signs of life. But neuroscientists have various different theories about what consciousness in AI systems might look like. Read the full story.
Melissa's story is from The Algorithm, MIT Technology Review's weekly AI newsletter. Sign up to receive it in your inbox every Monday.
2023 Climate Tech Companies to Watch: Gogoro and its battery pack network
Gogoro is sort of a reverse Tesla. The company, which makes electric scooters to create a market for its battery-swapping network, and batteries for third-party vehicles, has built a network of charging stations to help it sell cars.
Gogoro now has nearly 13,000 smart battery swapping stations at 3,000 locations in the nine countries where it operates. What's more, its cloud-connected, AI-managed stations can tell the state of every battery in the system, anticipate demand from customers, and optimize charging times for off-peak hours, when energy is cheaper. Read the full story, and read the rest of the list of Climate Tech Companies to Watch.
The must-reads
I've combed the internet to find you today's most fun/important/scary/fascinating stories about technology.
1 Neuralink's technology has the potential to damage our brains
Former workers say the company takes unnecessary risks. (Vox)
+ Less-invasive implants are showing great promise. (IEEE Spectrum)
+ Elon Musk's Neuralink is neuroscience theater. (MIT Technology Review)
2 Sam Bankman-Fried used customer money for extravagant spending sprees 
A former FTX executive spilled the beans on its founder's excessive spending. (NYT $)
+ SBF's defense has been unorthodox, to say the least. (Slate $)
3 Inside a giant carbon offsetting scam 
If it feels too good to be true, it usually is. (New Yorker $)
+ Carbon removal hype is becoming a dangerous distraction. (MIT Technology Review)
4 Who are ad-free social networks trying to please? 
While users don't like personalized ads, these versions are aimed squarely at regulators. (Bloomberg $)
5 Investors are boycotting Web Summit 
They disagree with its CEO's comments about the Israel-Hamas conflict. (The Information $)
6 Apple's recycling robot needs your old iPhones
Because too few people are submitting theirs to keep it busy. (FT $)
7 Driverless cars are here to stay
That doesn't mean city authorities have to like them, though. (The Atlantic $)
+ San Francisco is home to many battles over autonomous vehicles. (New Yorker $)
+ Robotaxis are here. It's time to decide what to do about them. (MIT Technology Review)
8 A Roman scroll has been read for the first time in nearly 2,000 years
Thanks to a little bit of AI. (WP $)
9 Paris is fighting back against a bedbug infestation
Using mostly very low-tech detection methods. (Wired $)
+ But other cities are also riddled with the pests. (New Scientist $) 
10 Mixed reality headsets are being spotted IRL
And you thought Google Glass was bad. (The Verge)
+ Those Meta-RayBan sunglasses are still going, too. (TechCrunch)
Quote of the day
"Ernie is not inferior in any respect to GPT-4."
—Robin Li, founder of Chinese tech giant Baidu, makes a seriously bold claim about the proficiencies of its recently-launched AI chatbot Ernie in comparison to OpenAI's sophisticated model, Bloomberg reports.
The big story
How we drained California dry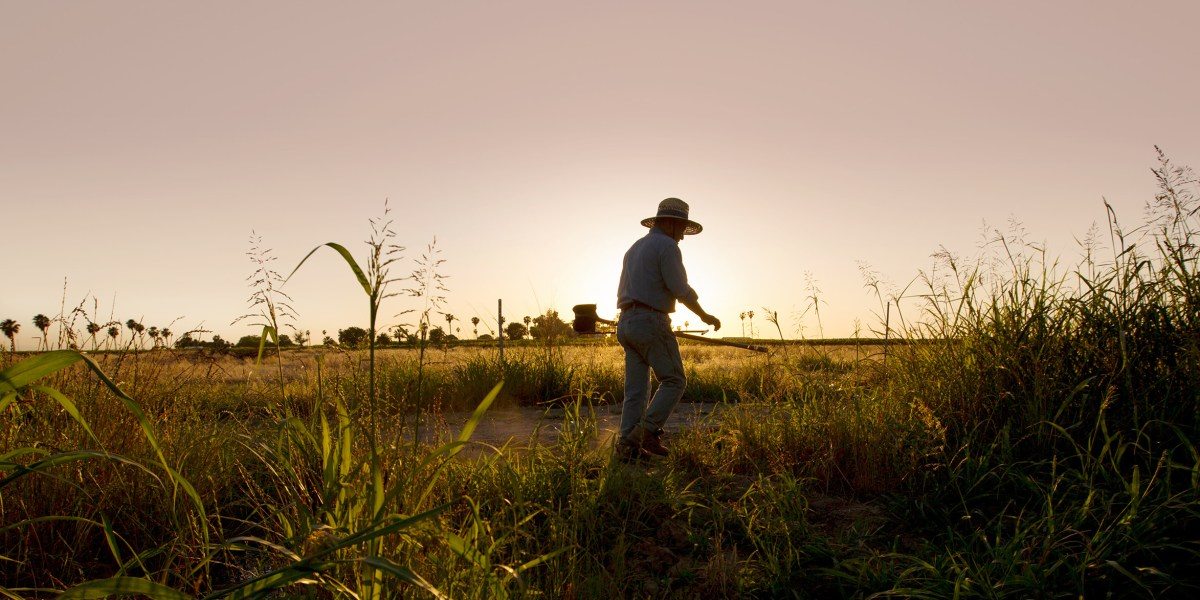 During the driest decade in state history, California's farmers haven't diminished their footprint to meet water's scarcity but have added a half-­million more acres of permanent crops—more almonds, pistachios, mandarins.
They've lowered their pumps by hundreds of feet to chase dwindling water sources, sucking many millions of acre-feet of water out of the earth that the land is sinking. This subsidence is collapsing the canals and ditches, reducing the flow of the very aqueduct that the state built to create the flow itself. Read the full story.
—Mark Arax
We can still have nice things
A place for comfort, fun and distraction in these weird times. (Got any ideas? Drop me a line or tweet 'em at me.)
+ This sweet lil bat can't get enough fruit.
+ Say hello to Kevin Afghani: the new voice of everyone's favorite plumber, Mario.
+ Every Twilight screening should be on a poorly-hung projector sheet.
+ If gentrification was a font, it'd look a lot like Neutraface.
+ You know what's really spooky? Tomatoes.