The Download: fighting pregnancy misinformation, and the ethics of organ donations
This is today's edition of The Download, our weekday newsletter that provides a daily dose of what's going on in the world of technology.
How Indian health-care workers use WhatsApp to save pregnant women
Across India, an all-women cadre of 1 million community health-care workers are responsible for making public health care accessible to people from remote areas and marginalized communities.
These workers counsel pregnant women and ensure they receive proper science-backed health care. Many are turning to WhatsApp as a means to combat the medical misinformation that is rampant across the country and to navigate sensitive medical situations, particularly regarding pregnancy. Their approach has surprisingly good results. Read the full story.
—Sanket Jain
A Massachusetts bill could allow prisoners to swap their organs for their freedom
What is the value of a human organ? A disturbing proposed change to the law in Massachusetts could give incarcerated people the opportunity to swap their body parts for reduced prison sentences.
Prisoners who donate one of their organs or their bone marrow could be rewarded with anywhere between 60 and 365 days off their sentence if this bill were to pass. Its cosponsors are touting it as a way to broaden the pool of donors for much-needed organs. But laws like this one are the wrong way to go about increasing organ donation. Read the full story.
—Jessica Hamzelou
This story is from The Checkup, Jessica's weekly newsletter covering biotech. Sign up to receive it in your inbox every Thursday.
The must-reads
I've combed the internet to find you today's most fun/important/scary/fascinating stories about technology.
1 A suspected Chinese 'spy balloon' is flying over the US
Officials are hesitant to shoot it down in case it injures someone. (BBC)
+ The balloon doesn't pose a threat to people on the ground. (WSJ $)
+ How China built a one-of-a-kind cyber-espionage behemoth to last. (MIT Technology Review)
2 Things are going from bad to worse for Big Tech
Earnings are sluggish, and jobs are still at risk. (WP $)
+ Apple, in particular, fell short of expectations. (WSJ $)
3 The Kremlin seems to be tracking Russian dissidents through Telegram
The app, which is supposed to be encrypted, has reportedly been compromised. (Wired $)
4 The motley crew behind the Tether cryptocurrency
Including a former plastic surgeon and child actor. (WSJ $)
+ We're happy to be regulated, the crypto industry tells UK officials. (FT $)
+ Exchange Binance has started operating in South Korea again. (CoinDesk)
+ What's next for crypto. (MIT Technology Review)
5 ADHD patients are suffering from an Adderall shortage
We don't know why supplies are so low—and officials aren't upping the quotas. (The Guardian)
6 Native American peoples are fighting for visibility on Wikipedia
Editors are at loggerheads over how to cover indigenous history. (Slate $)
+ Authorities in Pakistan have ordered Wikipedia to remove content. (The Register)
7 Those horrible website clickbait ads aren't going anywhere
The unnerving images drive clicks, unfortunately. (Fast Company $)
8 The downsides of paying social media users to post 
The Philippine central bank didn't look favorably on it, for one. (Rest of World)
9 TikTok loves Manhattan's veteran watch dealers 
It's pure Uncut Gems. (NYT $)
10 Virtual reality is getting sexy 
Explicit content is banned on the VRChat platform, but people are attending virtual orgies on there anyway. (BuzzFeed)
Quote of the day
Quote of the day:
"It's another castle built on shit."

—Rob Dubbin, the brains behind a popular automated Twitter bot, tells BuzzFeed how he feels about Elon Musk's plans to charge harmless bot account creators.
The big story
It's okay to opt out of the crypto revolution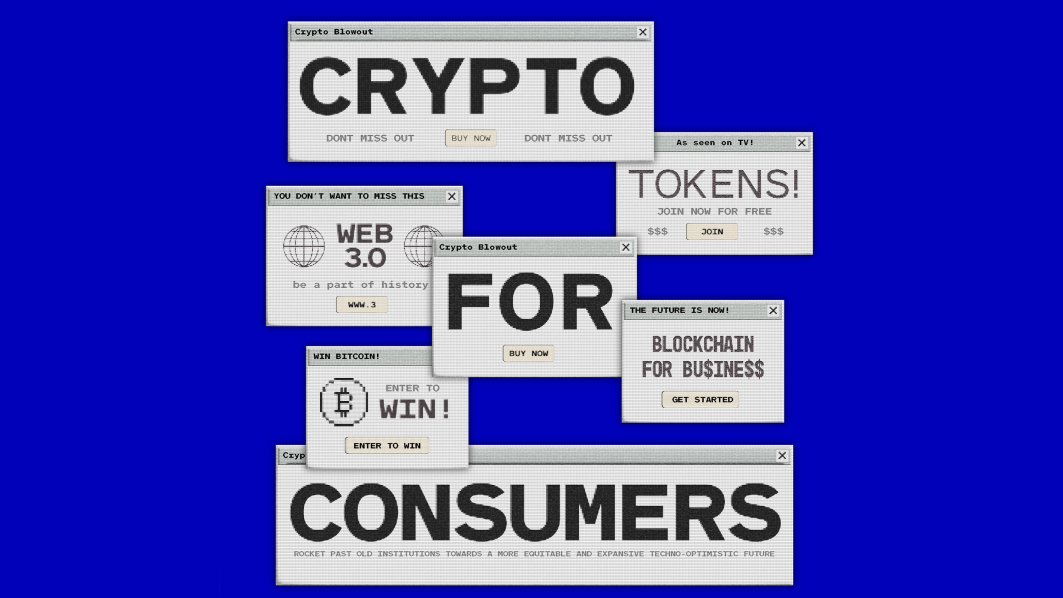 April 2022
Crypto advertising is everywhere. But despite their ubiquity and lavish expense, these ads routinely omit any description of what crypto is, or what any of the crypto companies are actually selling.
Crypto enthusiasts claim that the industry will revolutionize financial systems by decentralizing commerce. But so far, the industry has not made good on that democratizing promise. Read the full story.
—Rebecca Ackermann
We can still have nice things
A place for comfort, fun and distraction in these weird times. (Got any ideas? Drop me a line or tweet 'em at me.)
+ Getting this one in before Elon bans the good bots—the Random Restaurants Twitter account makes good on its name.
+ What's going to happen to book Twitter? Nothing good, it seems.
+ These pesky fish revealed their owner's credit card details during a gaming live stream to thousands of people.


+ How to be a cheap date—in the most literal sense.
+ Congratulations to Bobi, who's not only the world's oldest dog living, but the oldest dog ever!