The Download: ending image poverty, and EV chargers' power struggle
This is today's edition of The Download, our weekday newsletter that provides a daily dose of what's going on in the world of technology.
How tactile graphics can help end image poverty
—Chancey Fleet
In 2020, in the midst of the pandemic lockdown, my husband and I bought a house in Brooklyn and decided to reimagine and rebuild the interior. He taught me a few key architectural symbols and before long I was drawing my own concepts, working toward a shared vision of the home we eventually designed.
It's a commonplace story, except for one key factor: I'm blind, and I've made it my mission to ensure that blind New Yorkers can create and explore images. As a blind tech educator, it's my job—and my passion—to introduce blind and low-­vision patrons to tools that help them move through daily life with autonomy and ease.
For blind readers, learners, and creators, tactile graphics—images rendered legible by touch—open up the world of spatial communication. And though the technical limitations involved in making these graphics are significant, lack of access or even awareness is a larger problem. Read the full story.
This story is from the forthcoming print edition of MIT Technology Review, and this one's all about accessibility. If you haven't already, subscribe to make sure you don't miss out on future stories—access starts from just $80 a year.
In the clash of the EV chargers, it's Tesla vs. everyone else
Tesla is known for its supercharging network, which it began building over a decade ago. In the US, it's bigger than all other such networks combined, with just over 19,000 fast chargers installed, compared with just over 15,000 from all other operators.
The company's electric vehicles have long included a port that's different from what most other vehicles use in the US. But in recent weeks, several automakers and charging networks have signed on to adopt Tesla's charging technology.
These moves are changing the dynamics in the battle over chargers, in a way that could have significant impacts on how we get around. Our climate reporter Casey Crownhart has dug into what's happening with this rivalry, why it matters, and what it could mean for your future driving (and charging) habits. Read the full story.
This story is from The Spark, Casey's weekly climate and energy newsletter. Sign up to receive it in your inbox every Wednesday.
The must-reads
I've combed the internet to find you today's most fun/important/scary/fascinating stories about technology.
1 The European Union is edging closer towards regulating AI
When passed, the law will serve as a benchmark for policymakers across the world. (NYT $)
+ It would clamp down on facial recognition, and force firms to be more transparent. (WSJ $)
+ How to think about AI—and its inherent risks. (Vox)
+ Not everyone is so keen for regulation, however. (IEEE Spectrum)
+ Our quick guide to the 6 ways we can regulate AI. (MIT Technology Review)
2 Google made millions of dollars from fake pregnancy center ads
These "crisis pregnancy centers" are  set up to block people from accessing abortion services. (The Guardian)
+ Texas is trying out new tactics to restrict access to abortion pills online. (MIT Technology Review)
3 IBM's quantum computer outperformed a supercomputer
But they're not sure if its answer to a tricky calculation is actually correct. (New Scientist $)
4 AI has made Microsoft cool again
How long it can cling onto that cool remains to be seen, though. (Bloomberg $)
+ Training AI models on YouTube videos is a smart move for Google. (The Information $)
+ Google wants to overhaul clothes shopping—thanks to some AI magic. (Bloomberg $)
+ The open-source AI boom is built on Big Tech's handouts. How long will it last? (MIT Technology Review)
5 Trans people are being targeted by fake hormone pill ads
The cruel campaign marketed shrub supplements as HRT-style pills. (Motherboard)
6 Chipmakers want to shrink their carbon footprints
The industry is a huge carbon emissions producer, but its biggest companies have a plan. (FT $)
+ What's next for the chip industry. (MIT Technology Review)
7 Smart drugs don't mean working smarter
In fact, they could actually reduce your productivity. (Vox)
8 Internet sleuths are hampering murder investigations
Their ghoulish fixation with visiting sites is traumatizing survivors.(The Atlantic $)
9 TikTok is turning Sliding Doors moments into 'canon events'
Just don't take them too seriously. (The Guardian)
+ Lipreading clips are hugely popular, too. (NYT $)
10 It's time to rethink microbiomes
Experts argue we're all part of a bigger picture meta-organisms, called holobionts. (Economist $)
+ Your microbiome ages as you do—and that's a problem. (MIT Technology Review)
Quote of the day
"Bribe-rejecting robots are OK but don't build any that can do house chores. I don't want to lose my job to a robot."
—Vijayalakshmi, a cook for households in Jayanagar, India, explains her concerns about the rise of AI chatbots, which are helping workers like her to sidestep the country's corruption to access financial aid, to Bloomberg.
The big story
Meet the wannabe kidfluencers struggling for stardom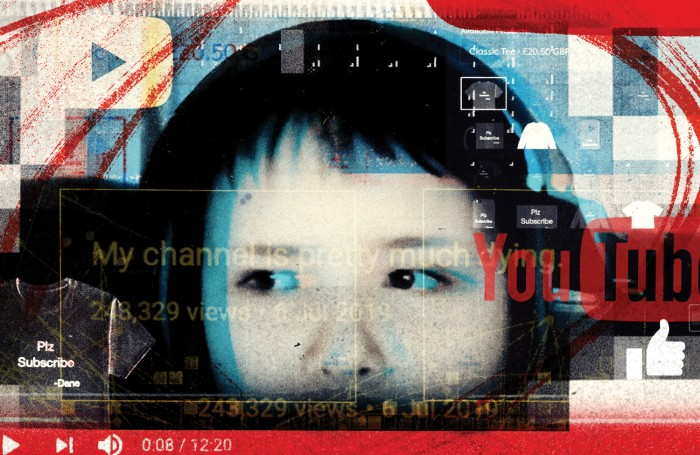 On YouTube, children can become millionaires—seemingly overnight, without trying. The highest paid of them, eight-year-old Ryan Kaji, made $22 million in 2018 by playing with toys on his channel Ryan ToysReview (now Ryan's World). There are now thousands of similarly famous child YouTubers: babies who have been vlogged since the moment of their birth, 10-year-old streamers showing off video-game tricks, teenage girls giving acne advice from their bedrooms.
Why do so many kids want to be YouTubers? Do they only seek fame, or is there more to it: creativity, community, and a future career? How are their parents helping them? And what happens if, after spending thousands of dollars or dropping out of school, it doesn't work out? Read the full story.
—Amelia Tait
We can still have nice things
A place for comfort, fun and distraction in these weird times. (Got any ideas? Drop me a line or tweet 'em at me.)
+ On this day in 1921, Bessie Coleman became the first Black person to earn an international pilot's license.
+ These Succession tarot cards are appropriately unhinged (thanks Jess!)
+ Is Instagram becoming MySpace? An investigation.
+ Aww, these cute pangolins are having a great time.
+ This triangular robot is seriously cool.