The Download: cutting beer's carbon emissions, and reclaiming lost wages
This is today's edition of The Download, our weekday newsletter that provides a daily dose of what's going on in the world of technology.
How electrifying steam could cut beer's carbon emissions
What's happening? Next year, New Belgium Brewing will swap out one of the four natural-gas-powered boilers at its main brewing facility in Fort Collins, Colorado, for an electrified version designed to cut greenhouse-gas emissions. The pilot boiler system was developed by AtmosZero, a startup also based in Fort Collins and coming out of stealth today.
Why it's important: Heat production from industry may account for around 10% of global carbon dioxide pollution. The sector relies heavily on steam to transfer heat, sterilize equipment and goods, and separate chemicals. New Belgium Brewing is working with startup AtmosZero to use heat pump technology, which can be far more efficient than the kinds of boilers the sector generally uses.
But… The company's products may struggle to compete against the very low cost of natural-gas-fueled boilers in some markets. Read the full story.
—James Temple
This app is helping workers reclaim millions in lost wages
Reclamo, a new web app, helps immigrant workers who have experienced wage theft. It guides them through assembling case details, and ultimately produces finished legal claims that can be filed instantly. A process that would otherwise take multiple meetings with an attorney can now be done within an hour.
A significant amount of wage theft targets immigrants, both legal and undocumented, in part because of communication barriers and their perceived lack of power or legal recourse. But the app is already making a difference—helping workers to reclaim $1 million in lost wages since it started beta testing in October last year. Read the full story.
—Patrick Sisson
This piece is from our forthcoming print issue all about accessibility, which is out tomorrow! If you haven't already, subscribe to make sure you don't miss out on future stories—a special offer means that subscriptions start from just $60 a year.
Next-gen content farms are using AI-generated text to spin up junk websites
People are using AI to quickly spin up junk websites in order to capture some of the programmatic advertising money that's sloshing around online, according to a new report by NewsGuard, exclusively shared with MIT Technology Review.
That means that major advertisers and brands are essentially funding the next wave of content farms, likely without their knowledge. The ploy works because programmatic advertising allows companies to buy ad spots on the internet without human oversight. It's an existing trend that's being supercharged by generative AI. Read the full story.
— Tate Ryan-Mosley
This story is from The Technocrat, Tate's weekly newsletter covering tech policy. Sign up to receive it in your inbox every Friday.
The must-reads
I've combed the internet to find you today's most fun/important/scary/fascinating stories about technology.
1 An AI-designed drug has entered human trials
It's the first drug fully discovered and made by AI to make it to this stage. (FT $)
+ A new method of drug delivery could help to combat chronic pain. (Wired $)
+ There's a shortage of crucial cancer drugs across the US. (The Atlantic $)
+ AI is dreaming up drugs that no one has ever seen. Now we've got to see if they work. (MIT Technology Review)
2 DeepMind's Gemini is gearing up to take on ChatGPT 
Demis Hassabis has a lot of faith in his system's planning and problem solving abilities. (Wired $)
+ Meanwhile, OpenAI wants to turn ChatGPT into a work helper. (The Information $)
+ Baidu says its Ernie AI has outperformed ChatGPT in Chinese tasks. (Reuters)
+ A couple of top executives appear to have left Stability AI. (Bloomberg $) 
3 These weight loss drugs are even more effective than Ozempic
But grim side-effects like nausea are still present. (WSJ $)
+ Weight-loss injections have taken over the internet. But what does this mean for people IRL? (MIT Technology Review)
4 Google didn't steal millions of song lyrics after all
That's according to a US Supreme Court ruling, at least. (Bloomberg $)
5 Inside the factory making green EV batteries
Sweden's Northvolt Ett gigafactory could pave the way for future European plants. (New Scientist $)
+ Why Tesla is dominating the battle over EV chargers. (NYT $)
+ Meet the new batteries unlocking cheaper electric vehicles. (MIT Technology Review)
6 Deforestation is still rampant across the world
Which is bad news for forests' ecosystems—and the climate. (Vox)
+ Inside the quest to engineer climate-saving "super trees". (MIT Technology Review)
7 Fashion retailer Zalando is challenging the EU's new digital rules 
It's claiming it doesn't deserve to be lumped in with Big Tech's 'bad actors.' (FT $)
8 Preserving the digital legacies of murdered journalists is grim work
Once journalists in Mexico are killed, their work often disappears too. (Slate $)
+ The mothers of Mexico's missing are using social media to search for mass graves. (MIT Technology Review)
9 The US is readying its first robotic lunar rover
University students were happy to take risks that the government wasn't. (IEEE Spectrum)
10 Nothing comes close to Second Life
20 years on, it's still the closest thing we have to a functional metaverse. (The Atlantic)
+ Welcome to the oldest part of the metaverse. (MIT Technology Review)
Quote of the day
"Every single day felt a little bit more shiny."
—S.O Swanson, a former line worker at Tesla, tells the Wall Street Journal about his experience microdosing LSD and magic mushrooms before he was let go by the company.
The big story
Logging in to get kicked out: Inside America's virtual eviction crisis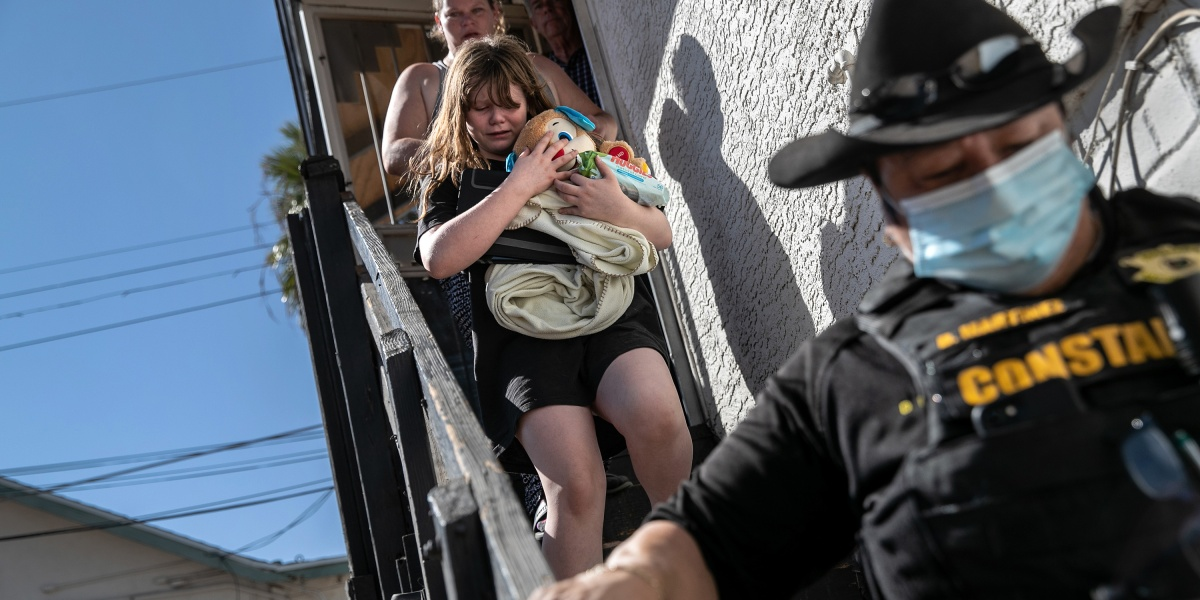 Before the pandemic, an average of 3.6 million Americans lost their homes to evictions every year, according to Princeton University's Eviction Lab. That number is estimated to have vastly increased, with the financial hardship exacerbated by covid-19 leaving many in a precarious situation.
Eviction hearings that used to be handled only in physical courtrooms are now taking place over video, or even by phone. The result, say lawyers and tenants' rights activists, is that an already problematic situation has become dramatically, tragically worse. Read the full story.
—Eileen Guo
We can still have nice things
A place for comfort, fun and distraction in these weird times. (Got any ideas? Drop me a line or tweet 'em at me.)
+ Send this piece to your friend who's always late: it's never too late to learn to be on time!
+ An excellent question—how, exactly, did Frasier afford such a plush apartment?
+ Pepper is worth crossing the globe for, in my opinion.
+ The megalodon wasn't a cold-blooded killer at all. It was, in fact, a warm-blooded killer.
+ Hmm, I'm not entirely sold on the supposed culinary merits of pinecones.