The Download: ChatGPT workout plans, and cleaning up aviation
This is today's edition of The Download, our weekday newsletter that provides a daily dose of what's going on in the world of technology.
People are already using ChatGPT to create workout plans
When I opened the email telling me I'd been accepted to run the London Marathon, I felt elated. And then terrified. Barely six months on from my last marathon, I knew how dedicated I'd have to be to keep running day after day, week after week, month after month, through rain, cold, tiredness, grumpiness, and hangovers.
The marathon is the easy part. It's the constant grind of the training that kills you—and finding ways to keep it fresh and interesting is part of the challenge. Some exercise nuts think they've found a way to live their routines up: by using the AI chatbot ChatGPT as a sort of proxy personal trainer.
Its appeal is obvious. ChatGPT answers questions in seconds, saving the need to sift through tons of information, and asking follow-up questions will give you a more detailed and personalized answer. But is ChatGPT really the future of how we work out? Or is it just a confident bullshitter? Read the full story.
—Rhiannon Williams
How new technologies could clean up air travel
Aviation is a notorious "hard-to-decarbonize" sector. It makes up about 3% of the world's greenhouse-gas emissions, and airline traffic could more than double from today's levels by 2050.
When it comes to flying, the technical challenge of cutting emissions is especially steep. Fuels for planes need to be especially light and compact, so planes can make it into the sky and still have room for people or cargo. But the industry has some promising ideas for cleaning up its act—and some of them are already taking off. Read the full story.
—Casey Crownhart
Casey's story is from The Spark, her weekly newsletter covering the latest climate and energy news. Sign up to receive it in your inbox every Wednesday.
New report: Generative AI in industrial design and engineering
Generative AI could transform industrial design and engineering, making it more important than ever for leaders in those industries to stay ahead. So MIT Technology Review has created a new research report that highlights the opportunities—and potential pitfalls— of this new technology.
The report includes two case studies from leading industrial and engineering companies that are already applying generative AI to their work—and a ton of takeaways and best practices from industry leaders. It is available now for $195.
The must-reads
I've combed the internet to find you today's most fun/important/scary/fascinating stories about technology.
1 Donald Trump is returning to Facebook and Instagram  
Meta says it'll add safety measures to deter future "repeat offenses." (NYT $)
+ Trump and Facebook are both struggling to stay relevant. (WP $)
+ Trump hasn't retracted any comments that led to him being banned. (Vox)
+ The reinstatement isn't exactly surprising. (The Atlantic $)
+ Won't someone spare a thought for Truth Social? (Axios)
 
2 We still don't know how covid affects the brain 
But research is shedding light on more effective treatments. (New Scientist $)
+ China is struggling to meet demand for coffins as covid deaths rise. (BBC)
 
3 The FBI is probing Snapchat's role in fentanyl deaths
Victims' families say dealers sell the pills over the platform. (Bloomberg $)
 
4 The US Supreme Court wants to shake up the internet 
Whatever the outcome, plenty of people will be unhappy. (New Yorker $)
 
5 Google and Microsoft are reigniting an old rivalry
It's the latest installment of Big Tech's AI arms race. (FT $)
+ Microsoft's Satya Nadella understands what's at stake. (Economist $)
+ What's next for AI. (MIT Technology Review)
 
6 You can be 18 again, for $2 million
Biotech fanatic Brian Johnson doesn't care if you don't believe it. (Bloomberg $)
+ How scientists want to make you young again. (MIT Technology Review)
7 This souped-up SUV is a killing machine
It's also doing nothing to alleviate pollution. (The Guardian)
+ Tesla's Cybertruck production won't ramp up until next year. (The Verge)
8 Surviving a nuclear blast hinges on finding the right kind of shelter 
An enclosed space is the best place to be. (Wired $)
+ Nuclear power is still a hard sell these days. (Undark)
 
9 Meet the teacher embracing ChatGPT
If you can't beat 'em, join 'em. (NPR)
 
10 If a catfish steals your photos, there's a silver lining
It may mean you're hot enough for them to want to impersonate you. (Vice)
Quote of the day
"As much as he wants to go on this flight, I'm going to have to hold him back. He'll be cheering us all on from the sidelines." 
—Lauren Sanchez, founder, aviator, and partner of Jeff Bezos, tells the Wall Street Journal about her plans to lead an all-female space mission next year, which, regrettably, Bezos won't be able to join.
The big story
Inside effective altruism, where the far future counts a lot more than the present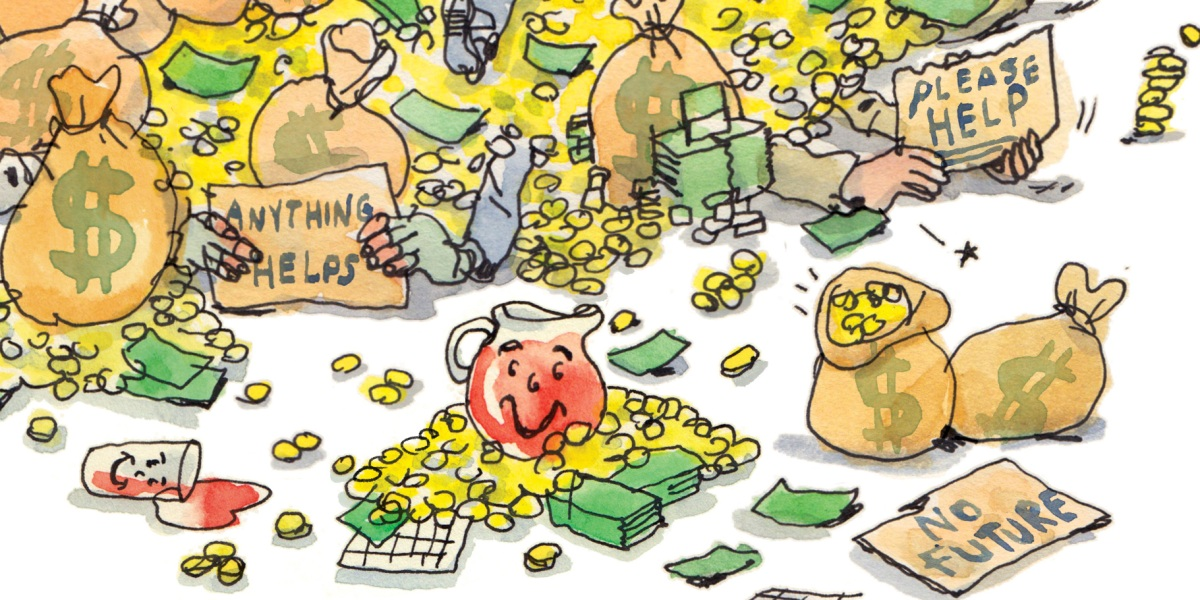 October 2022
Since its birth in the late 2000s, effective altruism has aimed to answer the question "How can those with means have the most impact on the world in a quantifiable way?"—and supplied methods for calculating the answer.
It's no surprise that effective altruisms' ideas have long faced criticism for reflecting white Western saviorism, alongside an avoidance of structural problems in favor of abstract math. But as believers pour even greater amounts of money into the movement's increasingly sci-fi ideals, such charges are only intensifying. Read the full story.
—Rebecca Ackermann
We can still have nice things
A place for comfort, fun and distraction in these weird times. (Got any ideas? Drop me a line or tweet 'em at me.)
+ These layered paintings are oddly satisfying.
+ This pure Twitter account shares weird and wonderful stamps from across the world


+ The strong case for taking a Wednesday, and not a Friday, off work.
+ Atlas the robot is just a massive show-off (thanks Will!)
+ Even Bret Easton Ellis knows James and the Giant Peach is a classic.