The Download: building anti-aging hype, and exploring the universe with sound
This is today's edition of The Download, our weekday newsletter that provides a daily dose of what's going on in the world of technology.
Police got called to an overcrowded presentation on "rejuvenation" technology
It's not every day that police storm through the doors of a scientific session and eject half the audience. But that's what happened on Friday at the Boston Convention and Exhibition Center during a round of scientific presentations featuring Juan Carlos Izpisua Belmonte, a specialist in "rejuvenation" technology at a secretive, wealthy, anti-aging startup called Altos Labs.
Police ordered anyone without a seat to clear out, after an overflow crowd began jostling in the aisles for space and violating the building's fire code. The brouhaha shows how excitement is building as researchers uncover the secrets of life. Some, like Belmonte, claim they'll eventually radically extend it, by 40 years or more. Read the full story.
—Antonio Regalado
How sounds can turn us on to the wonders of the universe
Astronomy should, in principle, be a welcoming field for blind researchers. But across the board, science is full of charts, graphs, databases, and images that are designed to be seen.
So researcher Sarah Kane, who is legally blind, was thrilled three years ago when she encountered a technology known as sonification, designed to transform information into sound. Since then she's been working with a project called Astronify, which presents astronomical information in audio form.
For millions of blind and visually impaired people, sonification could be transformative—opening access to education, to once unimaginable careers, and even to the secrets of the universe. Read the full story.
—Corey S. Powell
Corey's story is from the forthcoming print edition of MIT Technology Review, which is all about accessibility. If you haven't already, subscribe to make sure you don't miss out on future stories—subscriptions start from just $80 a year.
Five big takeaways from Europe's AI Act
Last week was a big one for tech policy in Europe, after the European Parliament voted to approve draft rules for its AI Act on the same day EU lawmakers filed a new antitrust lawsuit against Google.
The AI Act vote passed with an overwhelming majority, and has been heralded as one of the world's most important developments in AI regulation.
But don't hold your breath: it'll take around two years before the laws are actually implemented. Tate Ryan-Mosley, our senior tech policy reporter, has dug into the major takeaways you should know about. Read the full story.
This story is from The Technocrat, Tate's weekly newsletter covering policy and politics in Silicon Valley. Sign up to receive it in your inbox every Friday.
The must-reads
I've combed the internet to find you today's most fun/important/scary/fascinating stories about technology.
1 Chatbots could usher in a new way of conversing
As their ability to simulate chat rapidly improves, our expectations are shifting. (New Yorker $)
+ AI's ability to produce and spread disinformation is frightening. (Wired $)
+ But AI could also prove a useful validation tool. (FT $) 
+ Can't be bothered to attend an event? Send an AI version of yourself instead. (NYT $)
+ The inside story of how ChatGPT was built from the people who made it. (MIT Technology Review)
2 Intel has agreed to build a chip factory in Israel
Chipmakers are increasingly keen to diversify their supply chains beyond China. (Bloomberg $)
+ It's invested billions in a new German factory, too. (Economist $)
+ Meanwhile, Israel is working on a fiber-optic cable linking Europe and Asia. (Reuters)
+ These simple design rules could turn the chip industry on its head. (MIT Technology Review)
3 Xi Jinping wants to supercharge China's military with tech
Which isn't going to improve its already fraught relationship with western powers. (FT $)
+ China's economy has had a roller coaster six months. (Economist $)
+ Why business is booming for military AI startups. (MIT Technology Review)
4 How Meta fumbled its early AI lead
Academic breakthroughs took priority over consumer-facing products. (WSJ $)
+ Scams are scarily rife on Meta's platforms. (The Guardian)
5 People are taking abortion medication later in pregnancy
Laws restricting access to the pills are leaving some with no choice. (Vox)
+ The cognitive dissonance of watching the end of Roe unfold online. (MIT Technology Review)
6 Reddit's communities are dying
The site's management used to fear upsetting users. Now, they don't seem to care. (NY Mag $)+ Its CEO is happy to take the criticism, it seems. (The Verge)
7 What is crypto for, exactly?
A lot of its assets appear primed for activities on the wrong side of the law. (The Atlantic $)
+ It's okay to opt out of the crypto revolution. (MIT Technology Review)
8 This star has been eating a planet for decades
FU Orionis is on course to fully consume it sometime in the next 300 years. (New Scientist $)
9 San Francisco is getting really into recycling water


A word of warning: don't drink it. (Wired $)
10 Road tripping with an EV isn't without its challenges


Come prepared. (The Information $)
+ And expect to jostle for a charger. (The Atlantic $)
Quote of the day
"What's the deal with airplane food? The flavors are so plain. And the prices are sky-high."
—Comedian Geulah Finman reads out a joke written by ChatGPT during an AI comedy night in San Francisco, the Washington Post reports.
The big story
The future of urban housing is energy-efficient refrigerators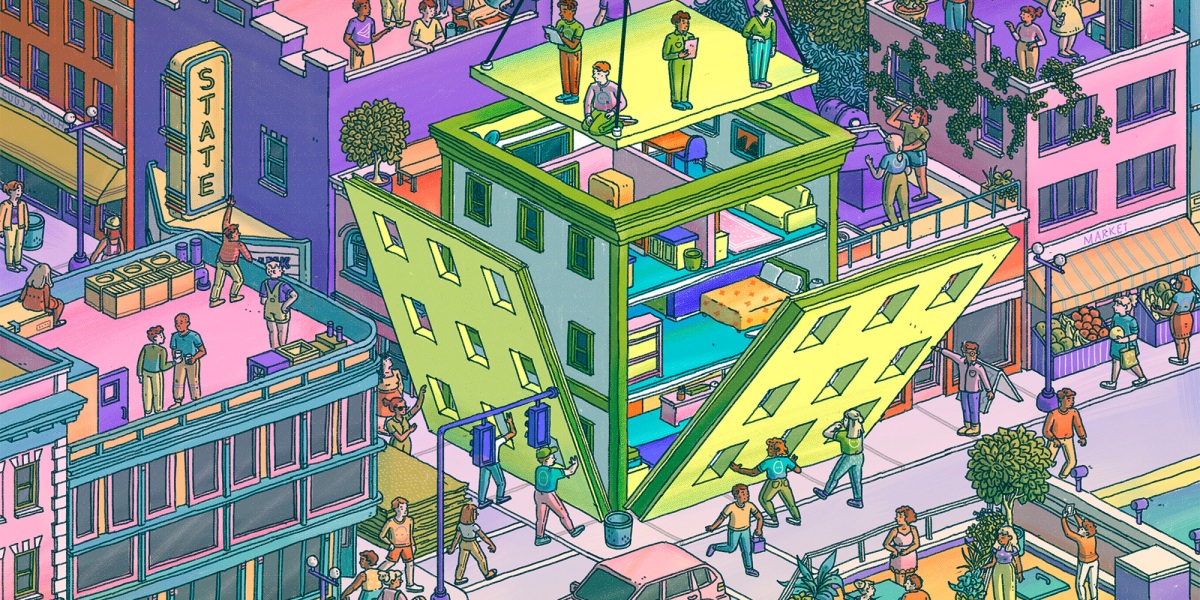 June 2022
The aging apartments under the purview of the New York City Housing Authority don't scream innovation. The largest landlord in the city, housing nearly 1 in 16 New Yorkers, NYCHA has seen its buildings literally crumble after decades of neglect. It would require at least $40 billion to return the buildings to a state of good repair.
Despite the scale of the challenge, NYCHA is hoping to fix them. It has launched a Clean Heat for All Challenge which asks manufacturers to develop low-cost, easy-to-install heat-pump technologies for building retrofits. The stakes for the agency, the winning company, and for society itself could be huge—and good for the planet. Read the full story.
—Patrick Sisson
We can still have nice things
A place for comfort, fun and distraction in these weird times. (Got any ideas? Drop me a line or tweet 'em at me.)
+ Neanderthals came up with an ingenious idea for an early form of glue: tar from trees.
+ A Mac OS desktop blanket? I'm into it.
+ These intense chess photographs are just fantastic.
+ Despite its interest in the macabre, goth is one subculture that will never die.
+ I bet you can't guess how Japanese calligraphy ink is made.