The Download: babies in space, and the FDA's ketamine crackdown
This is today's edition of The Download, our weekday newsletter that provides a daily dose of what's going on in the world of technology.
This startup wants to find out if humans can have babies in space
Despite the burgeoning interest in deep space exploration and settlement, prompted in part by billionaires such as Elon Musk and Jeff Bezos, we still know very little about what happens to our reproductive biology when we're in orbit.
Next to no research has been done on human reproduction in space, but adding to our understanding is vital to long-term space exploration. Scientists have started to speculate on whether in vitro fertilization technology was possible beyond Earth—or could even be improved by the conditions found there.
SpaceBorn United, a biotech startup, is seeking to pioneer the study of human reproduction away from Earth. Next year, it plans to send a mini lab on a rocket into low Earth orbit, where in vitro fertilization, or IVF, will take place. If it succeeds, the company's research could pave the way for future space settlements. Read the full story.
 —Scott Solomon
Ketamine is easier to prescribe than ever, and the FDA is not happy about it
As drugs go, Ketamine is pretty easy to find. It's become readily available in the past several years, and social media ads for online ketamine clinics in the US are widely circulated online. Now, according to the FDA, it might be a little too available.
Last week, the FDA issued a warning against the use of compounded versions of ketamine to treat psychiatric disorders, especially oral dissolving versions that make it possible to use the medication at home. Here's what that means in practice.
—Cassandra Willyard
This story is from The Checkup, our weekly biotech and health newsletter. Sign up to receive it in your inbox every Thursday.
2023 Climate Tech Companies to Watch: Commonwealth and its compact tokamak
Commonwealth Fusion Systems' approach to fusion builds on decades of research—and comes after decades of disappointment within the industry.
Yes, the company's first commercial reactor is still nearly 10 years away, but if it works, the climate benefits will be profound. Read more about the company, and check out the rest of the list of Climate Tech Companies to Watch.
The must-reads
I've combed the internet to find you today's most fun/important/scary/fascinating stories about technology.
1 Families of Israeli hostages are trying to track them down digitally
They're combing through a mountain of footage and images to try and find loved ones. (WP $)
+ Instagram apologized for adding the term 'terrorist' to Palestinian user profiles. (404 Media)
2 Net neutrality is staging a comeback 
Five years after Donald Trump repealed it for being "too intrusive." (WSJ $)
+ The FCC's decision to reinstate it will restore the original rules. (Vox)
3 Three major crypto firms are being sued for fraud
A judge overseeing the case blamed bad actors and a lack of regulation. (BBC)
+ Inside FTX's final hours, as they played out in court. (NYT $)
+ It's okay to opt out of the crypto revolution. (MIT Technology Review)
4 Hackers are going after a platform that connects police and tech firms
They're posing as law enforcement officers to demand access to sensitive data. (404 Media)
5 X is allegedly launching two premium subscription tiers
Will it actually happen? Who knows. (Reuters)
6 Nvidia has become caught up in the US-China chip war
Gamers in China are being forced to pay well over the odds for its graphics card. (Bloomberg $)
+ The US-China chip war is still escalating. (MIT Technology Review)
7 What makes a quantum computer so powerful?
After 40 years, we're still not entirely sure. (Quanta Magazine)
+ Inside the quest for unbreakable encryption. (MIT Technology Review)
8 How a beloved meme Facebook group fell victim to the culture wars
Its increasingly politicized Bluey memes are leaving parents cold. (The Atlantic $)
9 TikTok stars are made, not born
Ursus Magana claims to know the secret formula to making creators go viral. (Wired $)
10 How to survive a zombie apocalypse

Given what we know about pandemics and other disasters. (Slate $)
Quote of the day
"That thing's creepy."
—A marine is unnerved by a robot dog with a rocket launcher strapped to its back, as the military force put the robot through its paces in a training exercise, Motherboard reports.
The big story
I taught myself to lucid dream. You can too.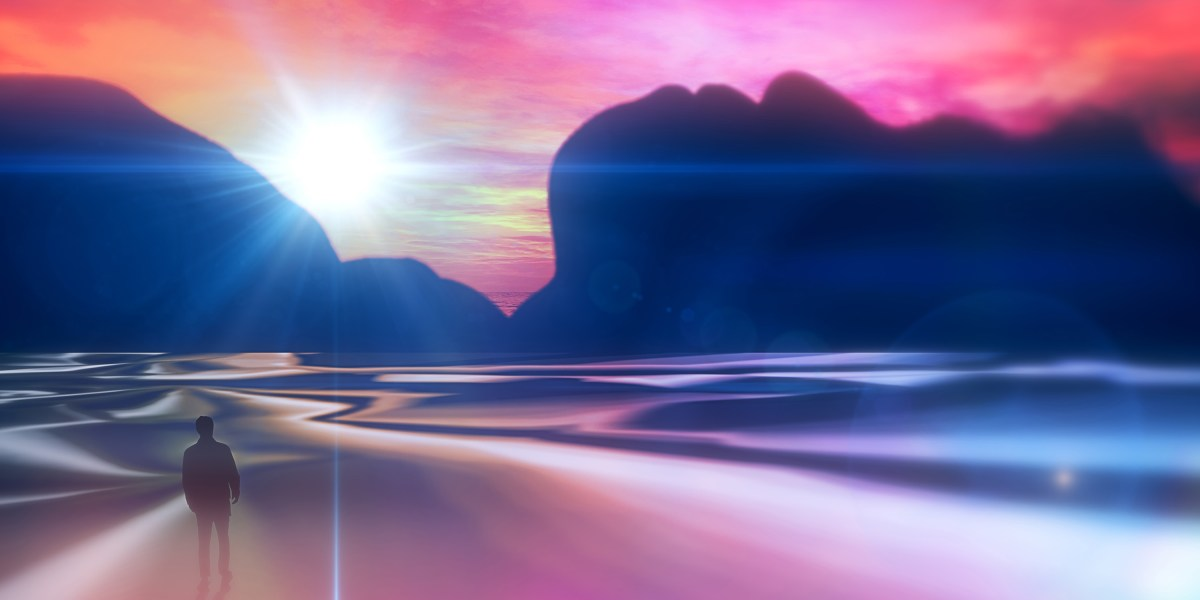 Lucid dreaming isn't easy to describe, but at its core, it means being conscious of the dream state—allowing you to play a more active role.
Some lucid dreams are like blank canvases where you can imagine a wild new environment and make it up as you go along. Others allowed people to process stressful situations like public speaking, or losing a loved one.
A small but growing number of scientists hope to learn more about how lucid dreaming works. And they've pinpointed some tricks to help anyone learn how to do it. Read the full story.
—Neel V. Patel
We can still have nice things
A place for comfort, fun and distraction in these weird times. (Got any ideas? Drop me a line or tweet 'em at me.)
+ If microscopic videos are your thing, the finalists in this year's Nikon Small World in Motion Competition are very cool (thanks Jay!)
+ When Andy Warhol met the one and only Arnold Schwarzenegger, a beautiful friendship blossomed.
+ Maps! Maps! Glorious maps!
+ Oasis legend Liam Gallagher is the new voice of Manchester's trams.
+ These Halloween masks are absolutely horrific.