The Download: a new kind of IVF, and the AI consciousness debate
This is today's edition of The Download, our weekday newsletter that provides a daily dose of what's going on in the world of technology.
This biotech CEO decided to take her own (fertility) medicine
When Dina Radenkovic, CEO of Gameto, a startup engineering stem cells to craft a lightweight version of IVF, injected herself with a needle loaded with hormones last December, she wasn't trying to get pregnant. Instead, she'd signed up for her own company's study of how to "mature" human eggs in a lab dish instead of inside their bodies.
Gameto is among a group of startups trying to simplify the IVF process, as well as getting it to fit into women's busy schedules more easily. But experts say its technology still has some way to go before it can be embraced more widely. Read the full story.
—Antonio Regalado
The great AI consciousness conundrum
AI consciousness isn't just a devilishly tricky intellectual puzzle; it's a morally weighty problem with potentially dire consequences that philosophers, cognitive scientists, and engineers alike are currently grappling with.
Fail to identify a conscious AI, and you might unintentionally subjugate a being whose interests ought to matter. Mistake an unconscious AI for a conscious one, and you risk compromising human safety and happiness for the sake of an unthinking, unfeeling hunk of silicon and code.
Over the past few decades, a small research community has doggedly attacked the question of what consciousness is and how it works. The effort has yielded real progress. And now, with the rapid advance of AI technology, these insights could offer our only guide to the untested, morally fraught waters of artificial consciousness. Read the full story.
—Grace Huckins
This story is from the next magazine edition of MIT Technology Review, set to go live on October 25. It's all about society's hardest problems, and how we should tackle them. If you don't subscribe already, sign up now to get a copy when it lands.
The fight over the future of encryption, explained
Policy proposals have been popping up around the world that call for tech companies to build in ways to gain information about encrypted messages, including through back-door access.
There have also been efforts to increase moderation and safety on encrypted messaging apps, like Signal and Telegram, to try to prevent the spread of abusive content, like child sexual abuse material, criminal networking, and drug trafficking.
Legally, and politically, the space is sort of a hornet's nest; states are desperate to crack down on illicit activity on the platforms, but free speech advocates argue that review will lead to censorship. Tate Ryan-Mosley, our senior tech policy reporter, explains what you need to know about the debate. Read the full story.
This story is from The Technocrat, our weekly newsletter giving you the inside track on all things tech policy. Sign up to receive it in your inbox every Friday.
2023 Climate Tech Companies to Watch: Twelve and its electrochemical reactor
Twelve is converting carbon dioxide emissions into sustainable jet fuel. It recently launched the first commercial-scale production facility for power-to-liquid sustainable aviation fuels in the US, breaking down and reforming carbon dioxide into nearly any chemical that is currently produced by fossil fuels.
The company is already using it to make a sustainable aviation fuel (SAF) called E-Jet fuel, and is in talks to produce other consumer products, including sunglasses, Mercedes parts, and chemicals used in laundry detergents. Read all about Twelve, and if you want to learn more, check out the rest of our 2023 list of 15 Climate Tech Companies to Watch. 
The must-reads
I've combed the internet to find you today's most fun/important/scary/fascinating stories about technology.
1 AI image detectors are incorrectly labeling real war pictures as fake 
Which makes you wonder whether we can really rely on these tools. (404 Media)
+ Misinformation about the Israel-Hamas conflict is rife. (Vox)
+ AI-text detection tools are really easy to fool. (MIT Technology Review)
2 Deepfake porn is everywhere now
And it looks like it's only going to get worse. (Wired $)|
+ Deepfake porn is ruining women's lives. (MIT Technology Review)
3 The US is closing loopholes in chip export restrictions
American companies have been circumventing the ban on selling to China. (Reuters)
+ It makes the stakes for Taiwan's native chip industry even higher. (Economist $)
+ The US-China chip war is still escalating. (MIT Technology Review)
4 Will forcing companies to reveal their contribution to climate change work? 
California is optimistic it will. (Vox)
+ Stopping investing in polluters is another way. (The Atlantic $)
5 Machines have never been able to detect and reproduce smells


But that could soon change. (The Atlantic $)
+ Here's all the AI lingo you need to know. (WSJ $)

6 We're living in the era of LinkedIn
While other social platforms falter, the professional network only grows stronger. (FT $)
7 Hanoi's delivery drivers have been blocked from charging their EVs
Thanks to false rumors that a charging e-scooter triggered a deadly fire. (Rest of World)
8 Facial recognition is infiltrating airports and theme parks
But the privacy and security pay-offs are increasingly concerning. (NYT $)
+ The movement to limit face recognition tech might finally get a win. (MIT Technology Review)
9 Kids are still desperate for smartphones
If they're lucky, they might get a smartwatch instead. (WSJ $)
10 You might want to turn Apple's new video reactions off during therapy
Its chirpy animations could lead to some seriously awkward moments in serious video calls. (The Verge)
Quote of the day
"Zuck has balls, right?"
—Amjad Masad, CEO of developer platform Replit, admires Mark Zuckerberg's chutzpah for making Meta's Llama 2 large language model open source, Insider reports.
The big story
Inside the enigmatic minds of animals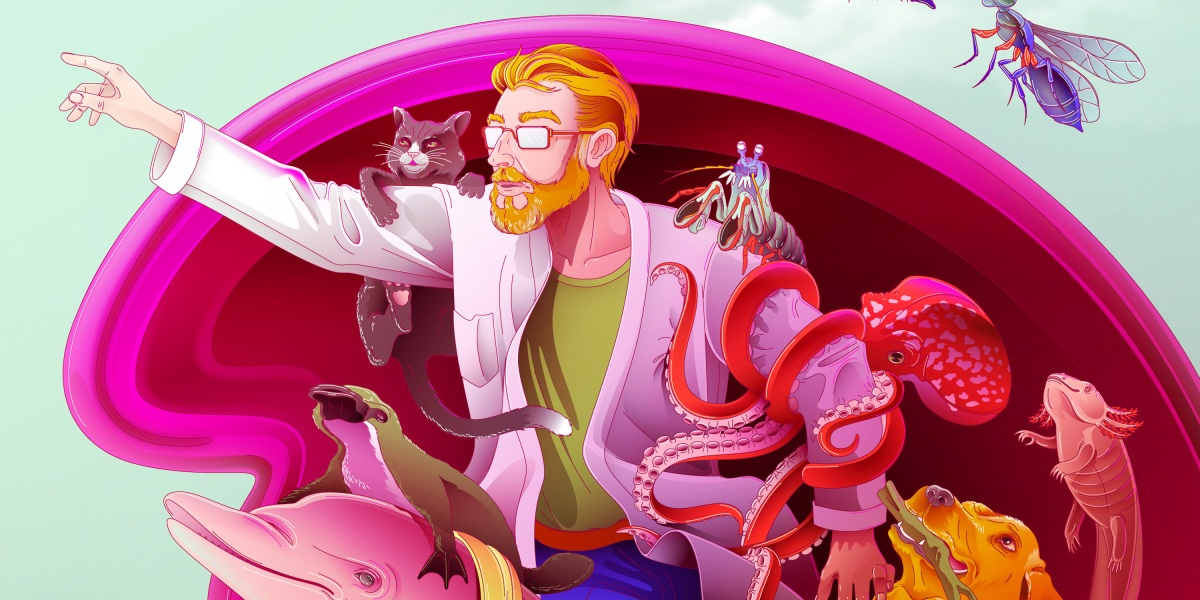 More than ever, we feel a duty and desire to extend empathy to our nonhuman neighbors. In the last three years, more than 30 countries have formally recognized other animals—including gorillas, lobsters, crows, and octopuses—as sentient beings.
A trio of books from Ed Yong, Jackie Higgins, and Philip Ball, detail creatures' rich inner worlds and capture what has led to these developments: a booming field of experimental research challenging the long-standing view that animals are neither conscious nor cognitively complex. Read the full story.
—Matthew Ponsford
We can still have nice things
A place for comfort, fun and distraction in these weird times. (Got any ideas? Drop me a line or tweet 'em at me.)
+ Taylor Swift may be making headlines for her Eras concert film right now, but there are plenty of others you should check out first (thanks Stefan!)
+ All hail Catnip Jack, the coolest kitty in Harlem.
+ Looking to increase your brainpower? Maybe hitting the gym could help.
+ Meet Koichi Itagaki: amateur astronomer, and prolific supernova hunter.
+ I want to eat all 70 feet of this record-breaking cannolo.