Digital transformation as a service is poised to drive enterprise growth
Digital transformation has become more than a mantra for organizations that want to stay competitive in today's ever-shifting global business landscape. Digital technologies, including artificial intelligence (AI) and robotics, are increasingly embedded in key areas of businesses to improve processes, satisfy fluctuating consumer demands, and boost operational resilience in times of uncertainty.
"Technology has become the nervous system of the enterprise—connecting corporate strategy, finance, innovation, operations, and HR to ensure that all parts of the business are in alignment," says Ken Wong, president of Lenovo's Solutions & Services Group (SSG). Technologies such as cloud computing, AI, machine learning, internet of things (IoT), and edge computing—once housed in on-premises environments—are becoming critical as data mobility and portability have increased.
According to IDC, global spending on digital transformation is forecast to grow 16.3% annually for the next five years, reaching $3.4 trillion in 2026. Not all that investment, however, will be fruitful. A Boston Consulting Group (BCG) study has found that only one-third of digital transformations are successful.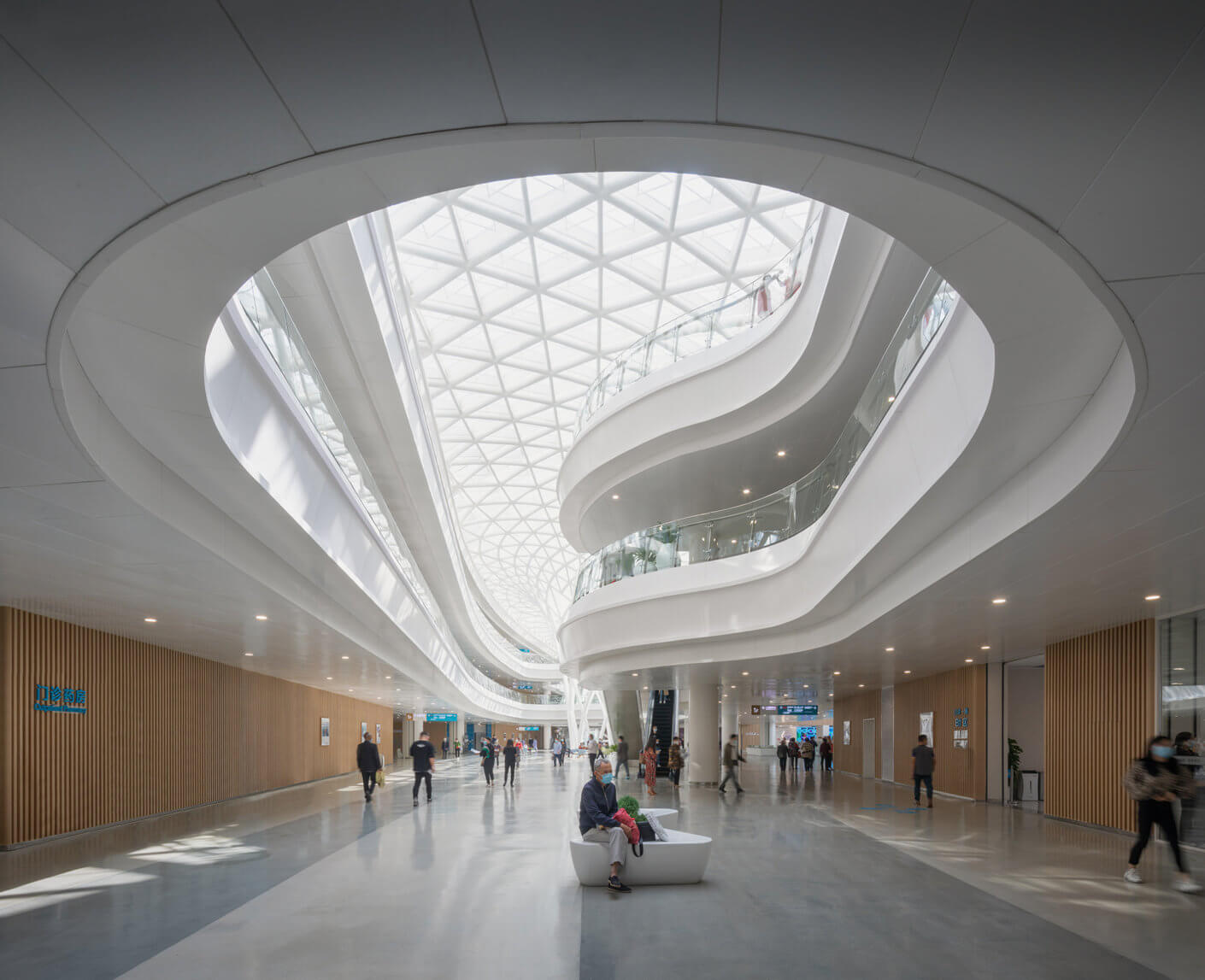 The complexities of change
Digital transformation involves multiple stakeholders and relies heavily on integration across business units. As the technology architecture for digital solutions becomes increasingly complex and costly, poorly managed digital transformation can lead to system vulnerabilities, data silos, and other costly IT headaches.
Against this backdrop, digital transformation as a service (DTaaS) has emerged as a solutions-led approach to help organizations adapt to a fluctuating business environment. It combines multiple technology solutions—from cloud computing to AI—on a single platform for continuous end-to-end transformation.
"Digital transformation as a service helps rebuild an organization from the ground up to make it more efficient and more flexible, empowering it with the agility to respond to new market opportunities faster at scale," says Wong. "Because IT complexity is growing, many businesses are opting for technology consumption models that revolve around services. Echoing the B2C market, which offers a variety of subscription services, enterprises can now turn to services ecosystems that make it easier to manage IT and optimize buying, deploying, managing, and scaling infrastructure without incremental capital expenditures."
DTaaS in action
When China-based Huzhou Central Hospital wanted to create a digital solution in 2018 to help doctors monitor and manage patients with chronic medical conditions, they needed to ensure that their existing on-premises data center would be able to handle the vast volumes of data that would likely be generated. Stringent regulations also prevented the hospital from relying on a public cloud for storage and computing resources.
The hospital turned to Lenovo, which designed, developed, and deployed a new chronic disease management solution that helped improve the speed and accuracy of diagnoses. Thanks to Lenovo's TruScale Infrastructure as a Service (IaaS) solution, the facility gained access to a platform with the security and control of an on-premises environment, pay-as-you-go pricing, 24/7 monitoring, and much sought-after scalability.
Driving the need for a new model
Digital transformation has become a permanent fixture in many organizations—IT complexity, mounting competition, an increasingly distributed workforce, expanding cyberthreats, and rising demand for business continuity and sustainability are just some of the reasons behind the trend. However, many organizations are not equipped to deal with these challenges.
A lack of strategy can be a main hindrance. "Without a clear strategy and goals, it can be difficult to prioritize and focus on the most important digital transformation initiatives," warns Wong. Employee resistance to change is another obstacle to successful digital transformation, as many workers fear automation could jeopardize job security.
Some organizations struggle to find the necessary IT talent to oversee digital transformation. And then there are budgetary constraints, and the heightened cybersecurity concerns that accompany any new technology deployment.
For these reasons, organizations are increasingly leaning on DTaaS, and there are signs showing its potential growth. According to Allied Market Research, the global market for everything as a service was worth about $475 billion in 2021, and is projected to reach $2.6 trillion by 2031.
Keen competitive advantages
One of the top competitive advantages of DTaaS is its ability to grant organizations access to world-class, high-performance resources that might otherwise be out of reach, and turbocharge innovation. "Innovation today is not just about harnessing the latest technology," Wong says. "Innovation is also about solving your businesses' biggest pain points and driving measurable results for your bottom line."
At the University of Birmingham, innovation is a necessity. The institution, ranked among the world's top 100 universities, collaborated with Lenovo to build a powerful new supercomputer, known as BlueBEAR, to drive AI and big data research at a new institute opened in 2021. The processing power of BlueBEAR allows researchers to delve deeper into data, and inch closer to making scientific discoveries in everything from proton therapy treatment for cancer patients to genome sequencing.
Using BlueBEAR, clinicians developed a physical model of an operating theater that allowed them to track airflow that can contaminate surgical instruments, thereby reducing potential patient suffering and financial burden. The project was voted "best use of high-performance computing in life sciences" by industry publisher HPCwire.
The UK institution also worked with Lenovo on a water-cooling technology for its data center. The new design reduced cooling energy usage by as much as 83%, demonstrating that DTaaS could also improve business processes by supporting sustainable practices, such as reducing waste and CO2 emissions. "By centralizing and vertically integrating capabilities across the company, organizations can react quickly to market fluctuations while future-proofing their business by choosing more sustainable operational practices," Wong says.
In addition to helping enterprises in the climate fight, Wong says DTaaS providers can also offer a wide array of competitive advantages, ranging from easy access to skilled talent to lower operating costs. Specifically, DTaaS providers can:
connect organizations to experts with specialized skills and experience in deploying digital transformation solutions;
enhance talent acquisition and retention by providing more seamless, productive work experiences for employees; and
lower operating costs by providing a more cost-effective alternative to building and maintaining an in-house IT team while, at the same time, improving security and control.
Best practices to maximize value
Gleaning long-term value from DTaaS requires more than the right solutions and skilled talent. Best practices are also critical for success. Digital transformation can lead to sweeping changes in everything from technology infrastructure to business workflows. IT and non-IT leaders should therefore join forces and foster cross-functional collaboration.
"Organizations that prioritize digital collaboration, automation, and cloud-based solutions can help multiple teams work together, share best practices, and increase transparency on program progress," Wong says. "This is critical for digital transformation efforts because they require participation of teams across the organization to succeed."
Selecting tools that align with business goals is also crucial, he adds. Leaders must take the necessary steps to determine which technologies are most likely to meet their current business needs, and how their technology stack must evolve to meet future requirements.
The best tools will mean little without the right technology partner. While technology stacks aren't meant to remain static, the right partner can ensure organizations are consistently working with tools that help them solve some of the toughest IT and business problems. This requires a partner with deep experience in technology, heavy investments in research and development, and a proven track record.
Up next for DTaaS
Digital transformation, along with the technology landscape, will continue to evolve. OpenAI's ChatGPT shows that some of the technological shifts in AI and machine learning most likely to impact organizations and their digital transformation initiatives have already happened. "The use cases for these technologies will also grow as tools become more sophisticated and capable of automating more tasks and improving business decision-making," Wong says.
He predicts that demand for cloud-based solutions, which promise unprecedented scalability and flexibility, will continue to increase. A more powerful IoT ecosystem of devices and sensors will help organizations make better decisions. Mass deployments of 5G networks will bring faster internet speeds and lower latency. And cyberthreats and other security risks will also become increasingly complex.
DTaaS will grow in importance as enterprises grapple with challenges, such as increasing pressure from disruptive startups and competitors to invest in digital technology, and a digitally literate and distributed workforce that needs support and access to key systems and infrastructure. "Businesses will continue to adopt digital solutions to improve operational efficiency, customer engagement, and revenue growth," Wong says. "Expect to see surprising use cases in 2023 that show the value of digital transformation in the enterprise."
This content was produced by Insights, the custom content arm of MIT Technology Review. It was not written by MIT Technology Review's editorial staff.